I have a new client who recently had his home leveled and now has cracks throughout his drywall walls and ceilings.
He has a quote to repair the cracks, texture the drywall, and paint the ceiling, but he was wondering if covering his ceiling in a new material instead of fixing the drywall would be a more attractive option for about the same amount of money (or maybe just a little bit more).
Of coarse, he would have to consider whether the additional weight of the new ceiling would affect the structure of his home.
Here are a few options that we considered.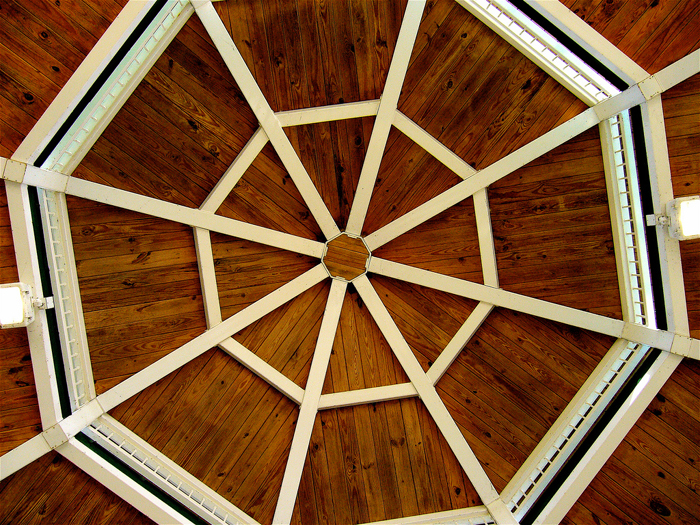 photo courtesy of bfick flickr.com/photos/ficken/2150665161
Drywall
We considered adding an additional layer of drywall to the ceiling instead of fixing the cracks.
The ceiling may get a bit more energy efficiency and the ceiling height will shrink by a little, but the overall look of the home will remain the same as before.
Wood
Wood ceilings add warmth to a home that is hard to match with a man made product.
Options for covering a ceiling in wood include using wood flooring, sheets of wood, wood strips, wood panels, wood tiles, beadboard, or a coffered wood ceiling.
The wood can remain unfinished, be painted, or be stained.
This is a beautiful option, however much more expensive than repairing the ceiling.
Metal
For a more industrial, historic, or rural look, metal is an option for a ceiling.
Metal ceiling tile or corrugated sheet metal is readily available at most larger hardware stores or online.
Metal ceilings will most likely reflect sound around the room, so it may create a noise problem.
Brick Veneer
Brick veneer is definitely a more costly idea for covering a ceiling.
The brick will add warmth and give a cozy feel to the room.
Wallpaper
In order to wallpaper a ceiling, the ceiling must be in good condition.
The ceiling would also need to have the texture removed for the wallpaper to adhere properly.
Considering the price of the new materials and the labor to install them, my client is most likely going to end up repairing his existing drywall instead of covering it.
I applaud him for thinking like a designer and trying to turn a needed repair into an opportunity to upgrade his home.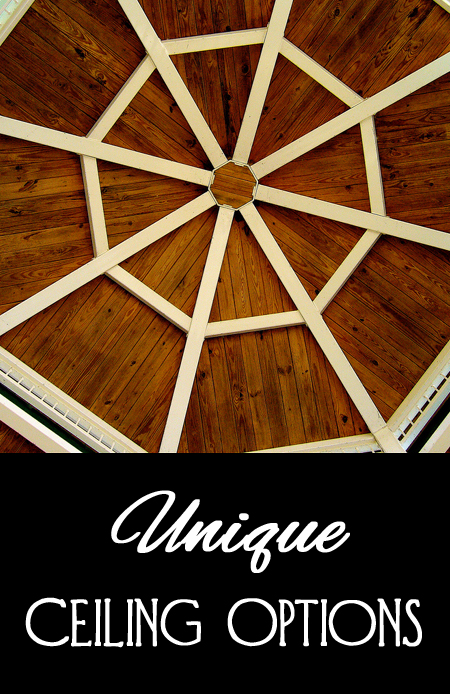 photo courtesy of bfick flickr.com/photos/ficken/2150665161
Save