When designing or decorating a home, you should know what is trendy and what is classic.
If you go with something that is trendy, you should use the trend that is coming up instead of the trend that is going out of style.
Here is a list of some home design trends that are in, others that are out, and the classic ones that are here to stay.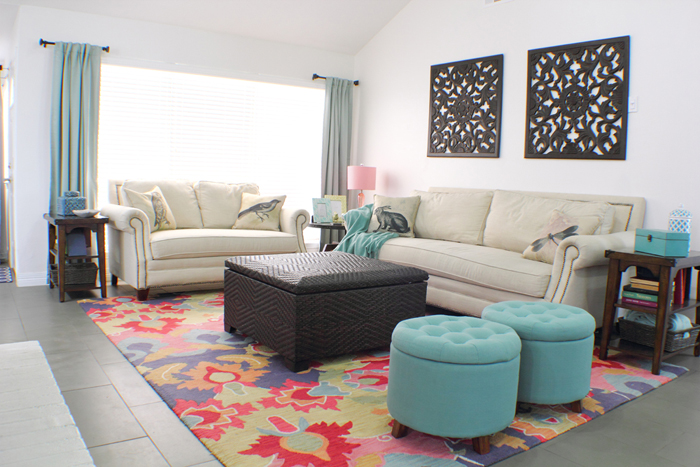 (Disclaimer - This website contains affiliate links, meaning I get a small commission for purchases made through the links that offsets the fees associated with publishing this blog, however you will not pay any additional cost)
What's In
Several decorative items and design styles are currently in style and very popular.
As with anything that is very popular, most of these items/styles are bound to be out of style in the next 5 to 10 years.
The interior design trends that are currently in style include Farmhouse style made popular by the show Fixer Upper, white kitchen cabinets, vintage items, door levers instead of knobs, black interior doors, antique brass hardware, tufted headboards, eclectic design styles, smaller homes, no breakfast room - just a dining room, fewer (if any) formal spaces, specialty kitchen appliances (a wine fridge, under counter ice maker, built in cappuccino machines, and an additional dishwasher), unique vintage or hand crafted items made popular by the website Etsy, floor tile rotated on a 45 degree angle, 12" x 12" or larger floor tile, the color navy, touches of black to add contrast to a light colored room, a mixture of textural items (soft velvet, sleek metal, rough reclaimed wood), kitchen and bathroom cabinets painted a color other than white (navy, gray, black), black window sashes, unique (but not cutesy) cabinet hardware, LED lighting, and larger light fixtures that are more decorative and not just utilitarian.
What's Out
Many home decor trends were made popular by the website Pinterest.
Pretty much every overly popular DIY item or craft is out.
This includes chalkboard painted items, mason jars or wine bottles used as decor, pallet anything, faux painting, words or phrases on walls, and excessive use of monograms - one monogrammed item or one collection of identical items (towels, pillowcases, etc) is OK.
Other items that are out of style include wood looking ceramic tile (or any other product that attempts to look like something it is not), chevron pattern, Tuscan style, letters or symbols used as art and accessories, pillows or artwork with a popular saying, oil rubbed bronze, wallpaper, 1990's shiny gold, brightly colored glass tile (gray, clear, white, and pale blue or green is OK), painted accent walls (paint the entire room the same color, else it looks like you ran out of paint and only painted one wall), overuse of ikat (one ikat item in a room is OK), many different intricate accent tiles used together, tile countertops, vessel sinks, dark espresso wood, matching furniture sets, large generic homes, home theaters, builder beige, clutter, ombre, 9" x 9" floor tile, square floor tile laid in a brick pattern (rectangular tile is OK in a brick pattern), glass block, and homes that are boring and predictable.
What's Here to Stay
There are several interior design trends that have remained popular for a long time.
These trends would be good to consider using in your home since they should be timeless, but who knows what the future will bring.
Some decor items that are here to stay include wood floors (not laminate or vinyl), stainless steel appliances, traditional sized white subway tile, tiles and countertops made of natural materials (slate, granite, marble, etc), living plants, framed beveled mirrors, hardback books on display, a little bit of exposed brick, large kitchens open to the living room, 9 to 12 foot tall ceilings, under mount sinks, accessories that have sentimental value instead of mass produced items, eco friendly design, low maintenance materials, outdoor living rooms/kitchens, hidden televisions and other electronics, natural light, crown molding, taller baseboards, more kitchen cabinet drawers than doors, under cabinet kitchen lighting, and quality products.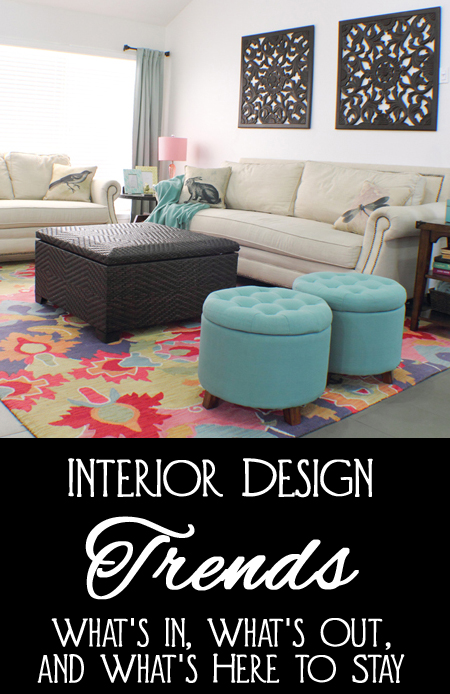 Save