I have had several conversations recently about the proper way to hang curtains.
There are some definite wrong ways to hang curtains, however there are several correct ways to hang curtains.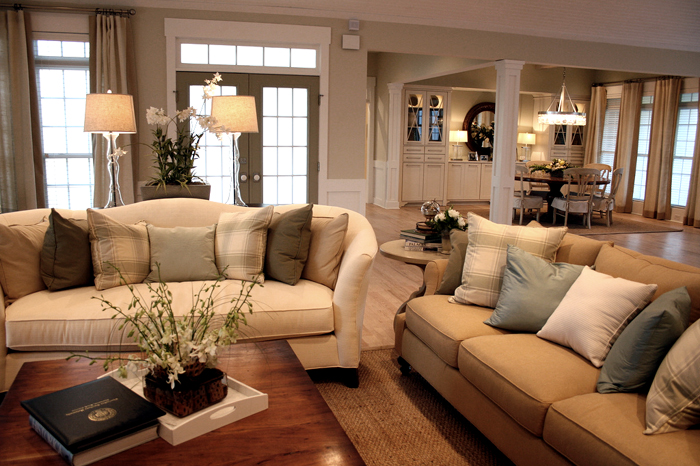 photo courtesy of Posh Surfside flickr.com/photos/kerryanndame/4778858090/
Curtains vs. Drapes
Lets start with a vocabulary lesson on the difference between curtains and drapes.
Drapes can easily open and close since they are hung on rings, while curtains are not easily opened or closed because they are hung from a rod pocket.
Drapes are typically pleated at the top, while curtains are not.
Drapes are often, but not always, made of heavier fabric, are more formal, are lined, and are more expensive than curtains.
Many people these days use the word curtains for both curtains and drapes.
Quality curtains/drapes should be lined and weighted to hang properly.
Length
Curtains and drapes are typically hung 1/2" from the floor.
Of coarse there are exceptions (such as curtains over a bath tub or sink), but in most cases 1/2" from the floor is perfect - especially since curtains can stretch a bit over time and might eventually touch the floor.
Some people prefer their curtains to touch the floor, which is also fine, or even puddle on the floor.
Curtains puddling on the floor look great in overly elegant or feminine spaces, however is not very practical for keeping your curtains clean.
You might get lucky and find ready made curtains or drapes the correct length.
If not, many tailors or dry cleaners can shorten them for you for a reasonable cost.
Width
Most design professionals will tell you that your curtains and drapes should be 2 to 3 times the width of your window.
If your window is 100" wide, your curtains or drapes should be 200" to 300" wide.
That means if you are purchasing ready made curtains or drapes, you might need to purchase 4 panels (2 on each side of the window) instead of 2 (1 on each side of the window).
You can choose to have the 2 sets of curtains sewn together to create 2 wider panels or leave them separated.
Curtain width is really a personal preference, but at minimum, your curtains should be wide enough to cover the entire window when closed.
A trend right now is to have inoperable curtains on a really short rod on the sides of a very wide window. These inoperable curtains are purely for aesthetics and do not follow the 2-3x width of the window rule.
Height
Several years ago, most people hung their curtains slightly above the window.
This is still acceptable, but a current trend is to hang them closer to the ceiling.
Feel free to hang your curtains 1/2 or even 2/3 of the way from the top of the window to the ceiling (or bottom of your crown molding).
If there is a large amount of wall space between the top of your window and the ceiling, then mount your curtain rod about 12" above the top of your window.
Curtains and drapes typically look out of proportion when hung at the ceiling, unless the window is very tall near the ceiling.
You should be able to see part of the wall above your curtains.
Many people are also adding fabric or bamboo shades above their window, like a valance, to make the windows appear larger.
In this case, treat the top of the shade as the top of the window and hang the curtains at the top of the shade to 2/3 up from the top of the shade to the ceiling (or bottom of your crown molding).
Curtain Rod
Your curtain rod should extend past your window to allow your curtains or drapes to "stack back" in front of the wall when opened.
Ideally, they should be able to be fully opened and only cover a small portion of the window to allow as much light in your room as possible.
Ideally, you should have custom curtain rods made that do not telescope, since telescoping rods are not fully symmetrical.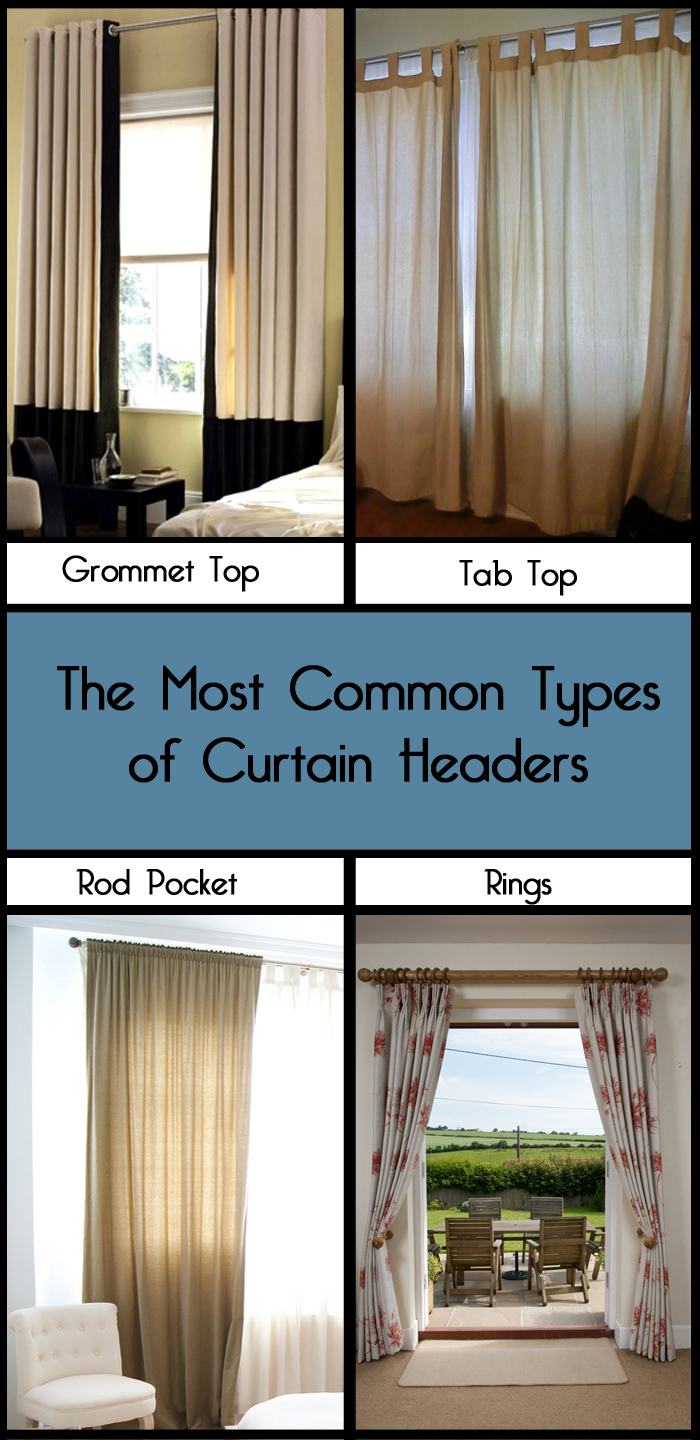 photos courtesy of Homestilo flickr.com/photos/homestilo/8505219299/, Lee Rusch flickr.com/photos/chicagolee/6483657689, Isa flickr.com/photos/life_pictures/5644320928/, and Ben30 flickr.com/photos/ben30/2582130954/
Grommets, Tab Tops/Tie Tops, Rod Pockets, and Rings
Grommet top curtains are very contemporary and should not be used in traditional spaces.
They are convenience in that they do not require rings and can easily be opened and closed.
Not everyone likes the look of grommet top curtains since they tend to look like a shower curtain.
Tab top and tie top curtains are very casual and sometimes look juvnile, however they are easy to hang and operate.
Rod pocket curtains are also easy because they do not require rings, however they tend to look less expensive than curtains with rings and are not easy to operate.
Many rod pocket curtains can be modified to accept rings.
Curtains and drapes hung by rings tend to look the most expensive, however avoid clip rings that look super cheap.
You can sew the rings directly to the fabric (if it is sturdy enough) but the preferred method is to use drapery pins.
When putting the curtains on the rod, typically 1 or 2 rings should go on the outside of the bracket on each side so the curtains or drapes can easily be pulled to the right while the left side stays in place, and vise versa.
Tie Backs
If you want to have your curtains swag and not hang straight, you can use a tie back.
The tie back can be made of a hard material, such as wood or metal, or it can be made of a soft material like fabric or a decorative cord.
Tie backs are typically used in more formal spaces with very full curtains.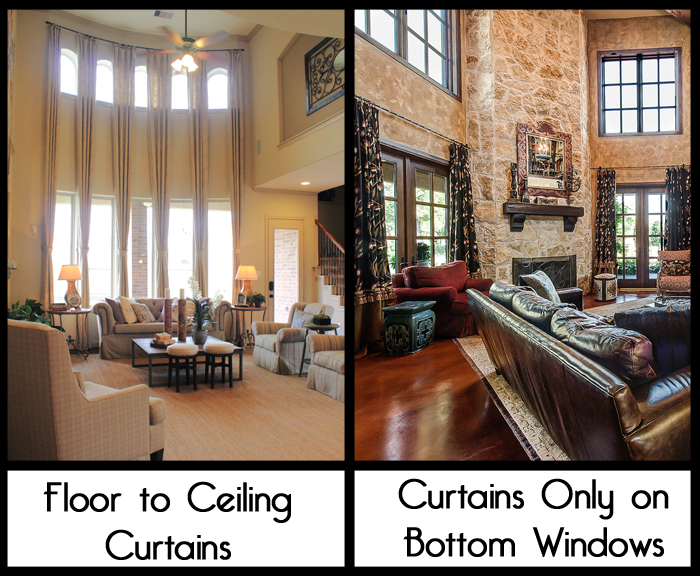 photo courtesy of Houston area home builder and Bill Wilson flickr.com/photos/okchomeseller/8016616161/
Two Story Rooms
A popular trend in new homes that has been around for a while is to have two story rooms with windows stacked on top of each other.
Several years ago, many people spent thousands of dollars on custom inoperable drapes that go from the top of the highest window to the floor.
This look often has the appearance of a circus performer wearing stilts with really long pants - a bit out of proportion with the room.
The current trend is to leave the top windows open and only put curtains or drapes on the bottom windows.

Note - when shopping for ready made curtains or drapes, be aware that some are sold per panel while others are sold as a pair of panels.
If you would like to receive for FREE "10 Reasons Why Your Home Looks Generic & Boring - and How to Fix It!", click here to join our mailing list and the article will be emailed to you shortly.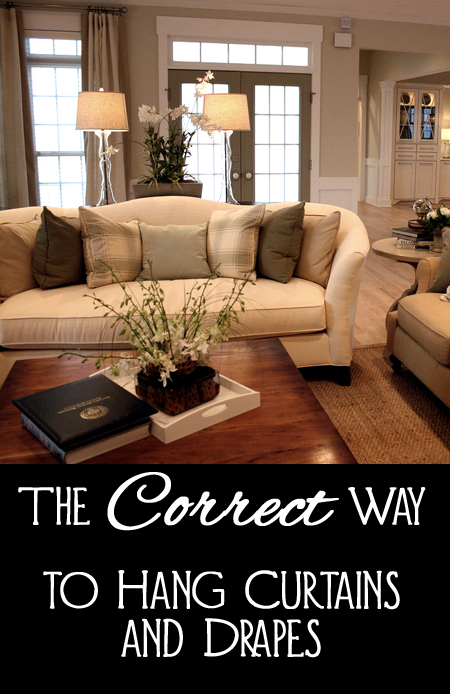 photo courtesy of Posh Surfside flickr.com/photos/kerryanndame/4778858090/
Save
Save
Save
Save