I get to see many homes as an interior designer.
Some homes are very nicely decorated, but just need a few finishing touches.
Other homes need a lot more help.
Here are the most common decorating mistakes I see in many of the homes I visit.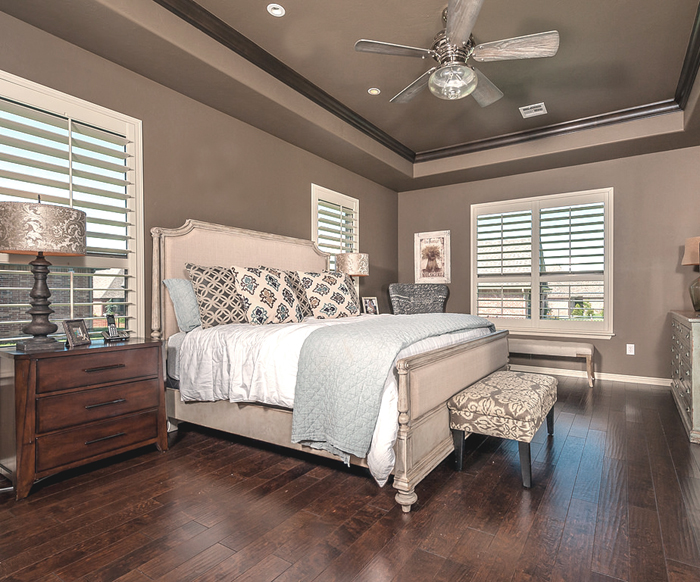 photo courtesy of Bill Wilson flickr.com/photos/okchomeseller/18304328508/
Beige
Beige is a popular neutral color, however your entire home should not be beige.
Just as you would not wear khaki pants and a khaki shirt together, you should also limit the amount of beige in your home.
Having one beige sofa is fine, but don't make the decorating mistake of also having beige walls, beige chairs, and beige flooring.
If you have beige carpet or tile, paint your walls a color other than beige, else your home will have too much beige.
Invest a few hours (perhaps one room per weekend) painting all of those beige walls to a unique color, a darker beige, or bright white that matches the color of your white baseboards.
Too Small
Many new homes have very large rooms that require very large furniture.
Putting smaller sized furniture in a large room makes the furniture look cheap and out of place.
Artwork must also be large in a large room.
Many smaller pieces of art spread throughout a room look random and mismatched, so opt for one larger piece of eye catching art instead.
Rugs need to be an appropriate scale for the room, else they look like an afterthought.
If you are moving from a smaller house into a larger house, you will most likely need larger furniture or more furniture to fill the new home properly.


Quality
If you have a lesser expensive home, then you can decorate with lesser expensive furniture and accessories.
If you have a more expensive home, you should have more high quality items in your home (high quality does not always mean higher priced, but you should avoid mass produced cheaply made items).
Do not shop for furniture at your local supercenter, cheap decor stores, or discount furniture stores that sell furniture sets for one low price if you have a luxury home.
If you can afford a nice home, then you can afford quality items inside your home.
You do not have to buy everything at once, but you should not skimp and buy cheap furniture that will not last more than 5 years.
Following Trends
Many people love trendy things.
The decorating mistake that many people make is to purchase trendy items when the trend is starting to go out of style or is already out of style.
Feel free to add a few inexpensive accessories to your home that are trendy, but avoid decorating with expensive trendy items that you cannot afford to replace in 2 years.
How do you know what is trendy?
If you just discovered a style or item and absolutely love it and see it in many stores and online, then it is a trend.
If you have seen this style or item for 10+ years and you still love it, then it is most likely not a trend.
You might want to refer to my article - Interior Design Trends - What's In, What's Out, and What's Here to Stay.
I hate hearing from homeowners that they bought something expensive that they loved just a year ago but it is now out of style and they regret their purchase.
If you like to look at model homes for design inspiration, keep in mind that some new model homes are decorated with current trends selected just for that home while other model homes are decorated with the same furniture and accessories they used on a different model home 10 years ago, so that model home's decor is most likely out of style.
Products That Try to Look Like Something Else
The one thing I learned from my interior design internship is to never use a product that tries to mimic another product because it ends up looking cheap and fake.
Either decorate your home with the real thing or use another product you can afford.
Laminate countertops are fine to use in budget friendly homes, but don't use laminate that tries to look like granite.
Tile is a good product, but don't use a tile that attempts to look like wood.
Over the years I have redecorated many homes from the 1980's that had real marble around the fireplace and fake marble on the floor in the entryway. The fake marble looked very cheap and had to be replaced, but the real marble still looks nice after all these years.
Clutter
A common decorating mistake homeowners make is having an abundance of clutter.
The beauty of a home is worthless if it is always messy.
Mail, electronics, purses, wallets, newspaper, kid art, laundry, and other items tend to accumulate if there is not an organization plan in place.
Make sure you designate a spot for everything that does not have a home.
Avoid putting magnets on your refrigerator, allowing kid toys in every room of your home, keeping broken things you intend to fix but never will, leaving unattractive items on your countertops, using multiple small rugs in a room (a small rug in front of each sink in a bathroom is OK), and stacking items on every empty surface you can find.
If you have open shelving or glass front cabinets, make sure the items on the shelves/cabinets are well decorated instead of crammed full of stuff.
Hide all electrical cords.
Over Decorated
Keeping with the clutter theme, some people make the mistake of overdoing it when decorating their homes.
Every surface does not need to be covered with stuff.
The more items you have, the less important each of the items appear.
Keep in mind that many furniture and accessory showrooms display an excessive amount of accessories because they want you to buy more, not because it looks good.
Opt for one larger item instead of several smaller items.
You do not need to have things collecting dust on top of your kitchen cabinets.
You do not need every inch of your walls covered in artwork, especially mass produced artwork that your neighbors might also own.
Your kitchen countertops should have enough empty surface space for you to actually prepare a meal.
You should be able to sit on your sofa without removing pillows.
Your home should not feel like a jungle with an excess of fake plants.
You should not have functional items that are never used, such as decorative towels & beauty products in your bathroom and jars of pretty food or liquids in the kitchen.
If you have many items that you love, consider displaying them a few at a time and rotate your collection throughout the year.
Opt for quality over quantity.
Matchy Matchy
Avoid buying an entire room or an entire home full of furniture from the same collection or the same manufacturer.
You do not want your home to look like anyone else's home.
If you buy unique individual items for each room, then you can move around items and add to your furniture and accessories easily, which is especially helpful if you move to a new home.
Having all of your furniture from the same set is boring and predictable.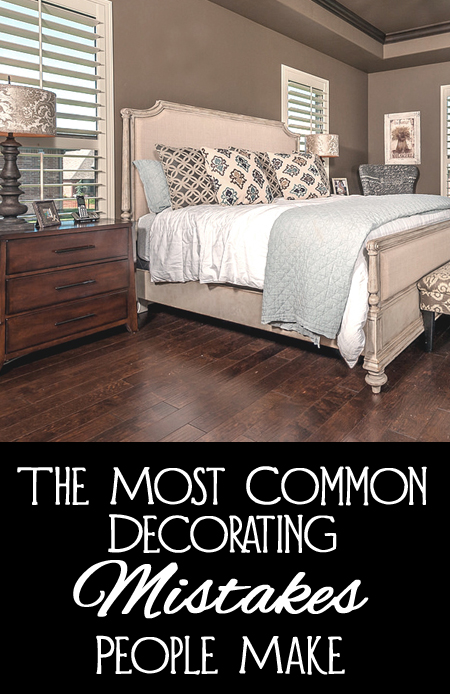 photo courtesy of Bill Wilson flickr.com/photos/okchomeseller/18304328508/
Basic Home Upgrades
When you buy a new home, the home builder usually puts in the cheapest products available to save money.
A common decorating mistake is to not upgrade a new home at all.
There are some basic items that are usually easy to upgrade to make your home unique and special.
I highly suggest that you change out most of the light fixtures to larger and different fixtures than all of your neighbors have in their homes. This includes your entry pendant, dining room chandelier, and the lights over your bathroom vanities.
You can also exchange the sheet glass mirrors in your bathrooms to decorative framed mirrors.
Adding unique knobs and pulls to your kitchen and bathroom can make your home more beautiful and protect your cabinets from wear, but don't use the basic cheap ones that come in a pack of 10 at your local home improvement store.
If you have basic inexpensive cabinets, such as basic white bathroom cabinets, paint them a color other than white to make them look more expensive.
Afraid to Paint Stained Wood
Many people are not concerned about repainting an already painted surface, but they are scared to death to paint anything stained.
If you have a stained door, stained trim, or stained cabinets that you dislike, then consider painting them for a more contemporary and updated look.
Afraid to Paint Brick
I agree that painting exterior brick is tricky because it will need to be repainted every few years unlike unpainted brick. Unless you absolutely hate your exterior brick, then leave it alone for low maintenance.
If you have an interior fireplace or brick wall that is overwhelmingly dark and makes your room feel like a cave, then you should seriously consider painting it to lighten everything up. Interior brick does not weather like exterior brick, so it should not need repainting for 20+ years if prepped and painted correctly.
You can even whitewash brick, which is basically painting it with a mixture of 1/4 paint and 3/4 water to allow some of the brick color to come through (you can adjust the ratio to get the opacity that you desire).
Curtains
If you have beautiful windows that are framed on all 4 sides, then you may not need curtains.
If you have basic builder windows with only a window sill and blinds, then don't make the mistake of not using curtains.
Make sure your curtains and the correct length, the correct width, and hung at the correct height.
For more detailed information on curtains, see my article The Correct Way to Hang Curtains and Drapes.
Too Boring
Most of the homes I enter are very boring.
I rarely see anything new or interesting.
Even some well decorated homes just seem blah because of their neutral colors and predictable furnishings.
Many people are afraid to do anything to their homes because they are too concerned with what the next owner might want if they ever decide to sell.
You will never know what the next owner might want, but your home will not sell quickly or sell for a high price if it is boring.
Even if you want your home to remain neutral, you can decorate with fun and interesting art and accessories to add life to your home.
Instead of shopping at your local big box store or home accessory store like all of your neighbors, shop online to find a larger selection of more unique items.
Also consider shopping at your local antique store or online auction site for vintage or antique items that are truly unique and interesting.
If you would like to receive for FREE "10 Reasons Why Your Home Looks Generic & Boring - and How to Fix It!", click here to join our mailing list and the article will be emailed to you shortly.
Save