I spent this past weekend packing up most of my Christmas decorations.
In the past month or so, through decorating and undecorating, I have learned a few lessons that will help me when decorating in late November.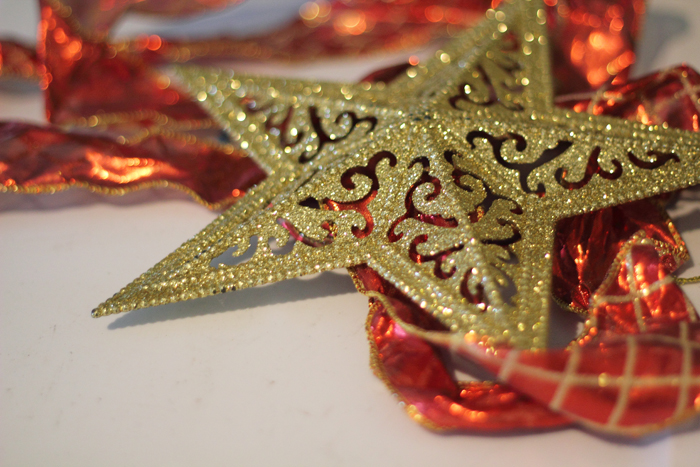 #1 Be Organized
I decorate my Christmas tree differently every year – sometimes a slight variation on the previous year, but other times a completely new look.
Some years I am totally on top of things and have an exact plan beforehand, but other times I get all of my decorations out of the attic and hope to be inspired – which is what happened this past year.
In November I learned (yet again) that taking a little extra time to be organized is better than the frustration that comes with disorder.
Last January I made the mistake of throwing my Christmas decorations in whatever box had empty space and putting everything away as quickly as possible.
When I started decorating in December, all of my decorations were a mess.
I was frustrated before my Christmas decorating had even begun!
This past weekend I sat down with a pile of zip top bags of different sizes and started grouping like items together.
The teeny tiny ornaments for my kids' petite Christmas trees went in a small bag all together, not thrown in different bins.
All the different colored ornaments were grouped by color (I think I have about 8 different colors).
I have a box for garlands, another for lights, several for ornaments, and two boxes of miscellaneous decorations (nutcrackers, floral fillers, stockings, knick knacks, etc).
I am now all organized for next Christmas.
#2 Involve My Family
Christmas decorating should not be a chore – it should be a Christmas tradition with family.
I typically set up my tree, put on the lights, arrange the garland, and put on some basic colored sphere ornaments.
Once that is complete, the entire family makes hot chocolate, turns on Christmas music, and puts the special one-of-a-kind Christmas ornaments on the tree.
This year I learned that the entire family should also help when taking the Christmas decorations down.
I was able to fold oversized fabric with my kids as well as teach them how to wrap the Christmas lights so they don't get tangled.
I spent quality time with my kids and reduced my workload.
Since it was a new chore that we were doing together (unlike taking out the trash or doing the dishes), they were more willing to help.
#3 Fewer Storage Boxes is Not Always Better
I like to save space in my attic, so I was using as few storage boxes as possible to hold my Christmas decorations.
This year I finally realized that fewer is not necessarily better.
First, the fewer boxes require more decorations in each box, so fewer boxes means heavier boxes.
My boxes are stored in my attic, so they have to be lifted up a precarious set of attic stairs.
Heavy boxes are not fun to lift.
Second, fewer boxes requires that I might have to mix different types of items in each box.
For example, instead of having a box dedicated only to Christmas lights, I might have to mix in some ornaments.
Please refer to my lessons learned #1.
#4 Its OK to Break the Rules
Every year I spend Christmas dinner at my cousin's house.
Her Christmas tree always looks amazing, even though it breaks almost every decorating rule.
This year she used a popular outside Christmas decorative item inside and it worked.
Her outside decorations were retro, which could have looked cheap, but she made it look classy (probably because they were very minimal).
I don't know how she does it, but she can make anything look good.
So, the final lesson learned this year is that breaking the rules can result in an amazing and memorable Christmas display, but you can't just put anything together – you have to know what you are doing.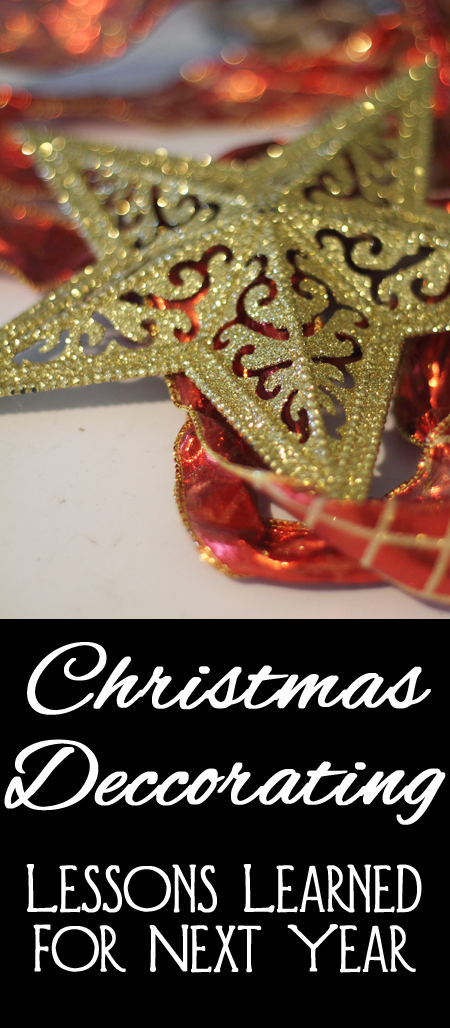 Save
Save
Save
Save
Save
Save