When designing for clients, I often run across products that I really like, however are not appropriate for the project I am working on.
I end up saving the item and often forgetting about it.
In an effort to show off the cool things that I find, and give you some interior design ideas, I decided to create a few room designs just for fun.
I will be publishing blog posts with these designs over the next few weeks, as time permits.
Today I am going to showcase my first design that I created named "Shades of Blue Living Room".
If you appreciate the design ideas, make sure to subscribe to receive blog updates via email (see the gray box on the right of the screen).
(Disclaimer - This website contains affiliate links, meaning I get a small commission for purchases made through the links that offsets the fees associated with publishing this blog, however you will not pay any additional cost)
The main focal point of this living room design is the traditional hand knotted silk oriental rug.
It adds a bold color to the living room to break up all of the blue.
All of the shades of blue are found in the artwork, which is a contemporary version of a landscape.
The rich blue green wall color adds drama to the room.
Patterned velvet lumbar pillows repeat the color in the rug and add another dimension of texture.
The chrome chandelier, floor lamp, and end table add a modern sparkle to traditional furniture.
Greenery is added to the room through the bird of paradise tree and preserved greens ball boxwood topiary.
I always suggest to choose live plants over faux plants when decorating a home.
If you prefer faux plants, make sure to spend a little extra money to get plants that look more realistic.
The rustic candlesticks, comfy throw blanket, and patterned classic books add warmth and character to the living room design.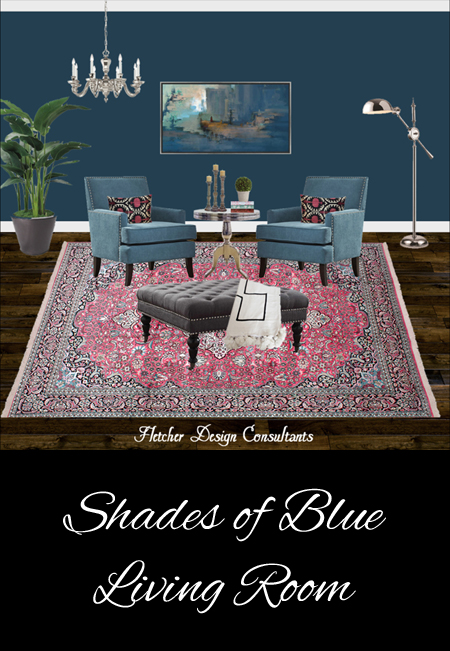 Click on the word below to access to the item online.
If you would like for Fletcher Design Consultants to customize a design for a room in your home, or to design your entire home, please contact us.
Save
Save
Save
Save
Save
Save
Save
Save
Save
Save
Save
Save
Save
Save
Save
Save
Save
Save
Save
Save
Save
Save
Save