This week I created another living room design, but this one is a bit more feminine with softer colors and some ornate furniture.
It is an eclectic style with some unique and dramatic pieces.
I hope this design gives you a few ideas for decorating your living room.
If you appreciate the design ideas, make sure to subscribe to receive blog updates via email (see the gray box on the right of the screen).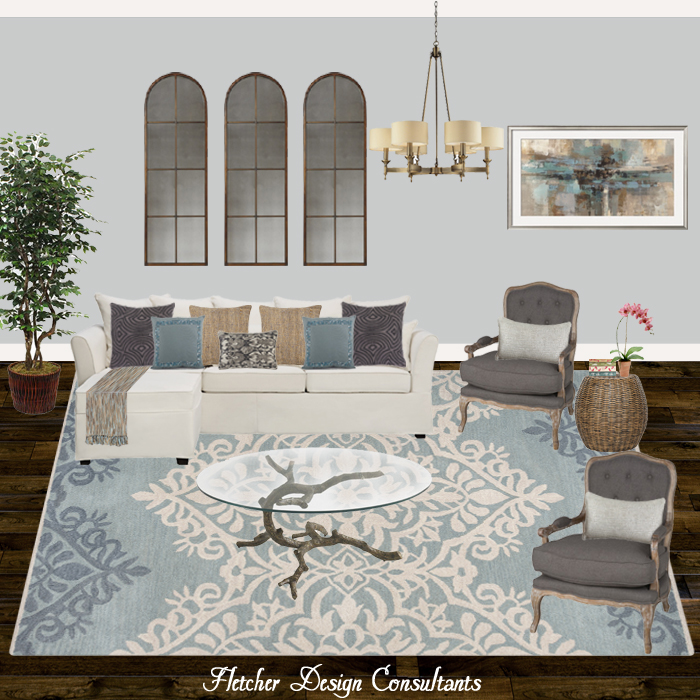 (Disclaimer - This website contains affiliate links, meaning I get a small commission for purchases made through the links that offsets the fees associated with publishing this blog, however you will not pay any additional cost)
The focal point of this living room design is the amazing coffee table.
It is truly a work of art.
Below the coffee table is a contemporary rug in a feminine pattern incorporating the colors of blue, gray, and white.
Surrounding the coffee table are a sofa with matching ottoman and two ornate chairs.
The sofa is a classic contemporary shape that lends itself to many decor styles.
On the sofa are several colorful and textural pillows, as well as a throw blanket, that add coziness and color to the room.
The ornate chairs are upholstered in a dark fabric that adds contrast to the light colored room.
Between the chairs is a wicker end table with a rough texture for interest.
On top of the table is a stack of beautiful and classic books and a potted orchid that adds a pop of color.
Living flowers are best, but make sure to buy higher quality faux flowers if you choose to decorate with them.
Three oversized mirrors above the sofa give the living room design a bit of a vintage feel.
Beside the mirrors is a colorful piece of art that incorporates the blue, gray, and gold color scheme.
On the left side of the room is a tree to bring life into the room.
As always, select a living tree when decorating your rooms if at all possible.
If you must use a faux tree, make sure to spend a little extra money on a higher quality one.
The room design is topped off with a beautiful antique brass chandelier with fabric shades in a classic traditional shape.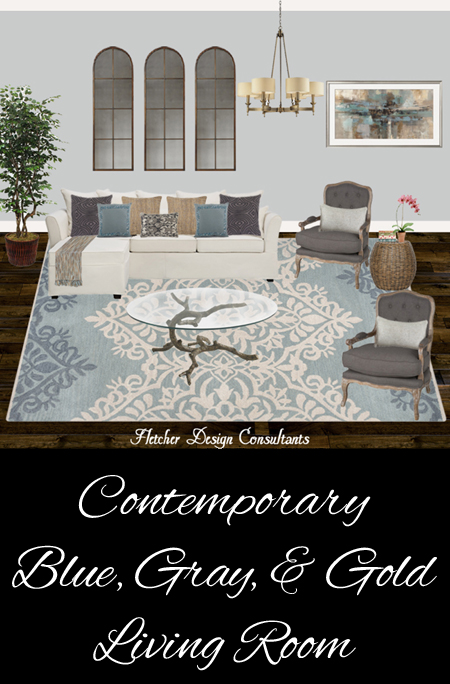 Click on the word below to access to the item online.
If you would like for Fletcher Design Consultants to customize a design for your home or office, please contact us.
Save
Save
Save
Save
Save
Save
Save
Save