Today I decided to mix things up a bit and design a bedroom.
This bedroom design showcases an eclectic mix of traditional and contemporary as well as masculine and feminine.
I hope that this design will give you a few ideas when decorating your bedroom.
If you appreciate the design ideas, make sure to subscribe to receive blog updates via email (see the gray box on the right of the screen).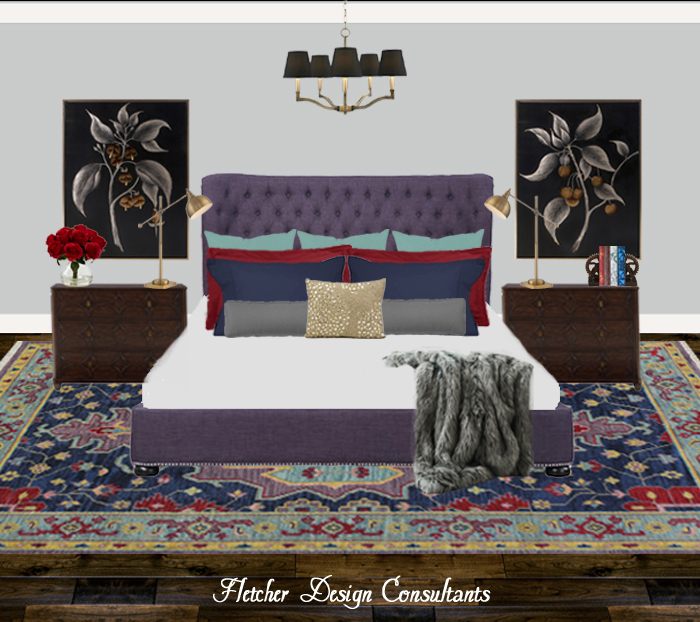 (Disclaimer - This website contains affiliate links, meaning I get a small commission for purchases made through the links that offsets the fees associated with publishing this blog, however you will not pay any additional cost)

The color palette for this room is found in the colorful rug.
This rug has such amazing color!
It is truly a show stopper.
Have you ever seen a purple bed?
The bed has a shape that most of us have seen before, but a color that is quite unique.
The bedding is simple and clean white to brighten up all of the dark moody colors in the room.
A plethora of pillows and a faux fur throw blanket add to the coziness of the bedroom.
The sparkly gold pillow adds a touch of fun and elegance to the design.
The stained wood nightstands offer additional storage as well as add an earthy feel to the room.
Their unique pattern adds a contemporary twist to traditional furniture.
On the nightstands are a pair of reading lamps, some books with industrial looking bookends, and some brightly colored flowers.
As always, opt for fresh flowers if possible.
If you prefer faux flowers, spend a little extra money for some high quality flowers.
The artwork over the nightstands has both silver and gold to tie in all of the silver and gold toned elements in the room.
A traditional chandelier with black shades tops off the design.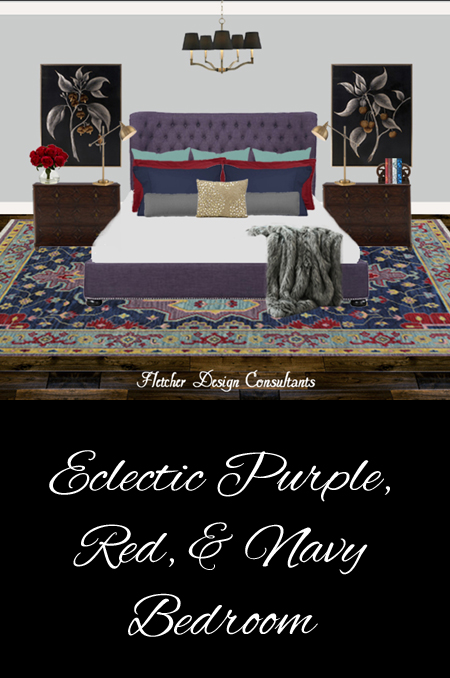 Click on the word below to access to the item online.
If you would like for Fletcher Design Consultants to customize a design for your home that showcases your unique personality, please contact us.
Save
Save
Save
Save
Save
Save
Save
Save
Save
Save