This week I designed an eclectic dining room that will hopefully give you a few decorating ideas for your home.
The dining room design incorporates both masculine and feminine elements and a color palette using multiple shades of blue.
If you appreciate the design ideas, make sure to subscribe to receive blog updates via email (see the gray box on the right of the screen).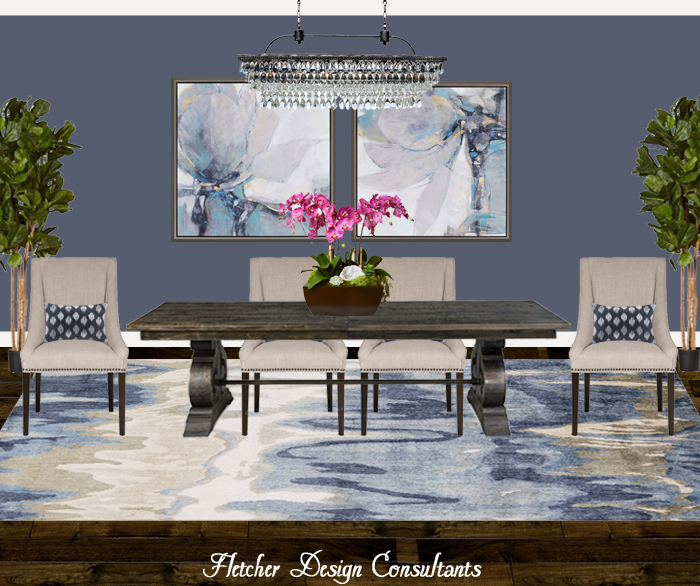 (Disclaimer - This website contains affiliate links, meaning I get a small commission for purchases made through the links that offsets the fees associated with publishing this blog, however you will not pay any additional cost)
The shades of blue color scheme used in this dining room comes from both the contemporary wool area rug as well as the beautiful artwork, which are giclée on canvas in a floater frame.
All of the blue is broken up using a pop of pink with the amazing orchid in the center of the dining table.
The orchid is such an amazing and large focal point that no other table decorations are necessary.
Fiddle leaf fig trees in the corners of the room add an earthy feel to make the room feel less sterile.
As I always say, real flowers and trees are aesthetically best for interiors.
If you must have faux flowers or trees, make sure to spend a little extra to get some that look very realistic.
The dining table is made of a masculine rustic looking wood, which artfully contrasts with its feminine shape.
The upholstered chairs add to the feminine feel, especially since they have a colorful and cozy decorative pillow.
Topping off the dining room design is a contemporary glass drop crystal chandelier.
The chandelier is an elongated rectangle, making it perfect above a rectangular dining table.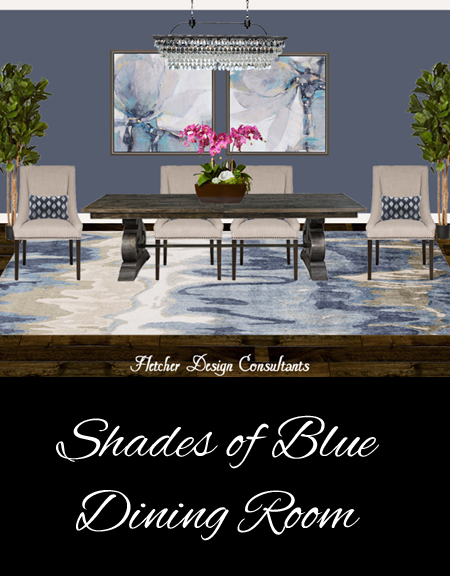 Click on the word below to access to the item online.
If you would like for Fletcher Design Consultants to customize a design for a your home, please contact us. We would love to help!
Save
Save
Save
Save
Save
Save
Save
Save