Today's design is an updated traditional bathroom design with a bit of bling.
The color scheme in this bathroom is black, white, and gray with antique brass and crystal accents.
Rustic and polished are artfully blended together to create this wonderful eclectic bathroom design.
Hopefully this bathroom design will inspire you and give you ideas for your home's decor.
If you appreciate the design ideas, make sure to subscribe to receive blog updates via email (see the gray box on the right of the screen).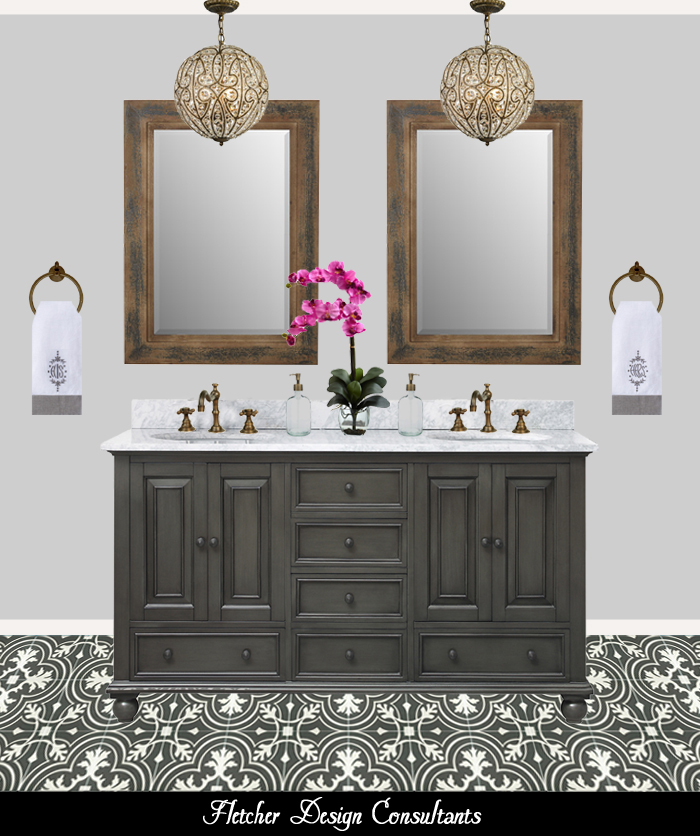 (Disclaimer - This website contains affiliate links, meaning I get a small commission for purchases made through the links that offsets the fees associated with publishing this blog, however you will not pay any additional cost)
The main show stopper in this bathroom design is definitely the bold patterned gray and white floor tile.
The tile has a traditional graphic pattern that demands attention.
Since the room is smaller in size, the graphic pattern is not overwhelming.
The dark colored traditional wood vanity with classic white marble countertop is beautiful and traditional, yet does not compete with the floor design.
Antique brass towel bars, soap dispensers, and faucets add a touch of color and warmth to the neutral colored room.
The somewhat rustic wood mirrors add a textural touch and earthy color that offsets the sleek surfaces.
Another show stopper in the room is the crystal sphere pendant lights that are like jewelry in this bathroom design.
Each sink gets its own pendant fixture to ensure proper lighting.
The "his" and "hers" embroidered linen hand towels add softness to the room with fine detailing.
A pop of color is added through the bright pink orchid.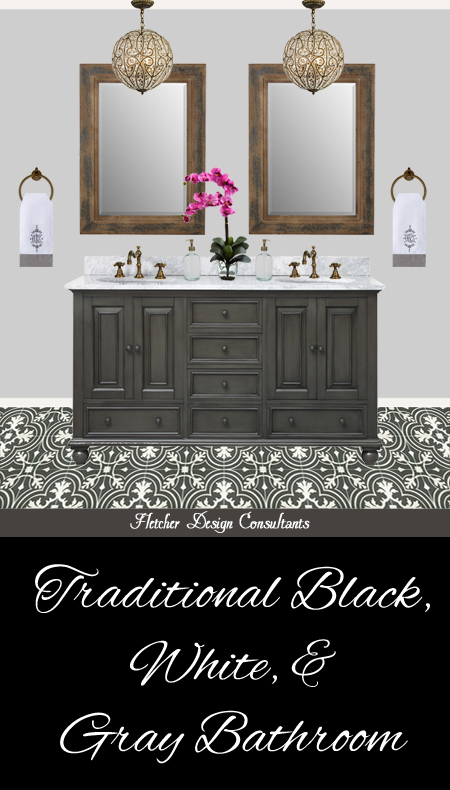 Click on the word below to access to the item online.
Vanity Cabinet with Countertop
If you would like for Fletcher Design Consultants to customize an interior design for a your home, please contact us. We would love to help!
Save
Save
Save
Save
Save
Save
Save
Save
Save
Save
Save
Save
Save
Save
Save
Save