This week's design is a traditional yet eclectic foyer with a navy, red, and gray color scheme.
Hopefully this design will inspire you and give you interior design ideas for your home.
If you appreciate the design ideas, make sure to subscribe to receive blog updates via email (see the gray box on the right of the screen).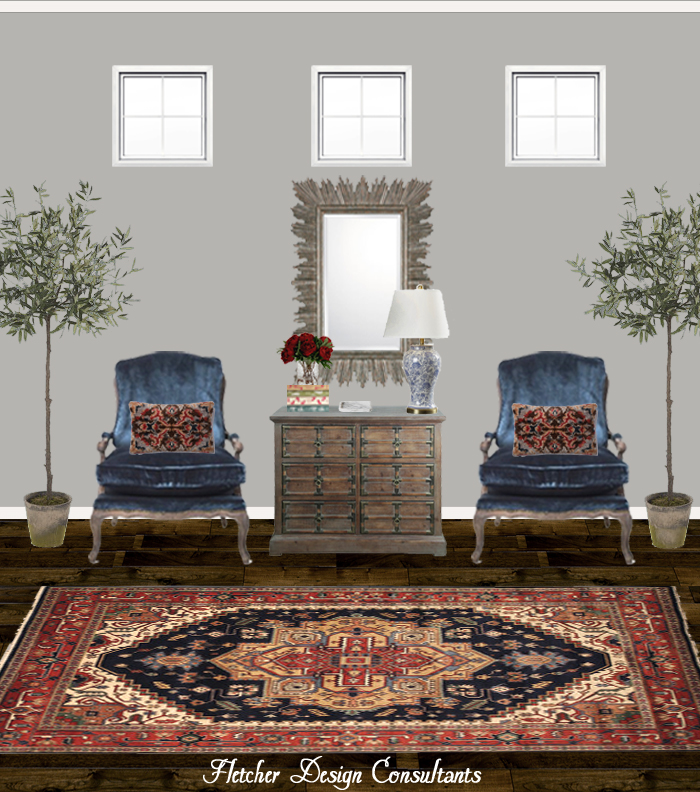 (Disclaimer - This website contains affiliate links, meaning I get a small commission for purchases made through the links that offsets the fees associated with publishing this blog, however you will not pay any additional cost)
Navy, red, and gray colors in the bold colored rug set the color scheme for this foyer.
The handmade wool rug has a traditional oriental pattern and compliments many different design styles.
Near the rug is a solid wood accent chest that has a traditional shape with a rustic finish.
It offers generous concealed storage space.
On top of the chest is a traditional blue and white lamp with a white shade and brass accents, a stack of beautiful books with a vase of red peonies, and a square marble accent tray that is perfect for collecting keys and/or loose change.
Above the chest is an ornate rectangular mirror with a beveled edge.
The club chairs on either side of the chest repeat the navy blue color in the rug.
Their soft velvet upholstery looks very rich and elegant with the weathered oak frame and brass nail heads.
On the navy blue chairs are multicolored down lumbar pillows that repeat the colors in the rug.
The olive trees bring the outdoors inside and fill some of the empty wall space above the chairs.
As I always suggest, live flowers, trees, and plants are best.
If you do not have a green thumb, spend a little more money on high quality faux plants.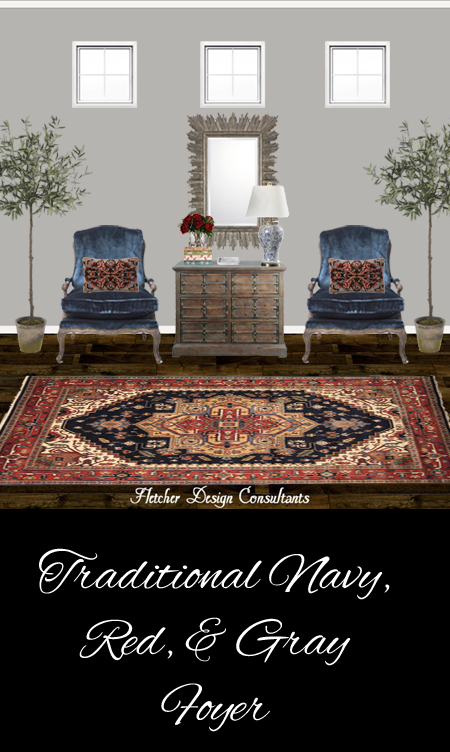 Click on the word below to access to the item online.
If you would like for Fletcher Design Consultants to create a design just for your home, please contact us. We would love to help!
Save
Save
Save
Save
Save
Save
Save
Save