This week's design is a contemporary version of a vintage bedroom.
It is colorful in moderation so the room is cheerful but not overly juvenile.
The items in the room are eclectic and feel collected over the years.
Contrast created by the use of bright white as well as dark brown, black, and gray makes the room feel contemporary and fresh.
This bedroom would be perfect in an older home, a home in a farmhouse or vintage style, or any home with a casual and fun aesthetic.
It could be a teenager's bedroom, a guest bedroom, or an adult's bedroom.
I hope this design inspires you while you are decorating your home.
If you appreciate these design ideas, make sure to subscribe to receive blog updates via email (see the gray box on the right of the screen).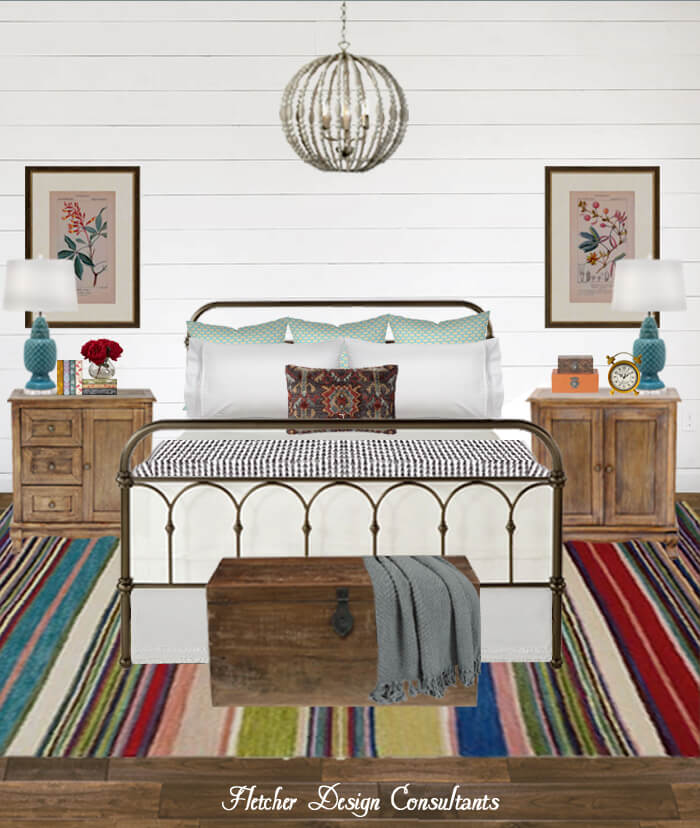 (Disclaimer - This website contains affiliate links, meaning I get a small commission for purchases made through the links that offsets the fees associated with publishing this blog, however you will not pay any additional cost)
White painted shiplap walls and classic wood floors are the vintage inspired backdrop for this bedroom design.
The color scheme comes from the contemporary rainbow colored rug that incorporates many different colors, including turquoise, red, lime green, olive green, yellow, black, purple, bold blue, white, peach, and pink.
In the center of the bedroom is a metal bed that has a classic and timeless design that will stand the test of time.
At the end of the bed is a vintage looking distressed wooden trunk that is made from recycled wood.
On top of the trunk is a traditional throw blanket in a contemporary gray color that softens the room and provides an extra layer of warmth on a cool night.
The bedding is basic white, which is always in style.
At the foot of the bed is a contemporary comforter in a black and white graphic pattern.
The rustic nightstands flanking the bed are similar yet different. They are both made of the same wood and are the same size, yet the door and drawer configuration is a bit different on each one.
On top of the nightstands are vintage looking turquoise lamps that repeat the color in the rug while adding an additional light source to the room.
Also on the nightstands are a set of classic and colorful books, some red flowers, a set of decorative boxes, and a fun yellow alarm clock that add more color to the room.
Above the nightstands are a set of botanical prints that compliment each other. They have a classic design and a vintage feel.
The room is topped off with a fun beaded spherical chandelier.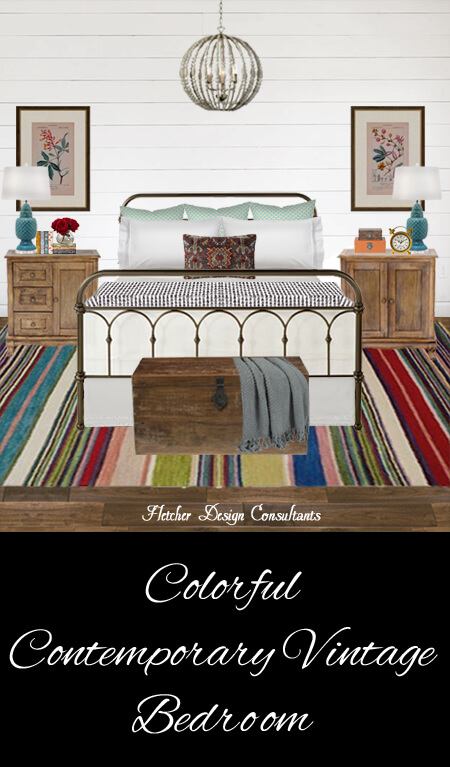 Click on the word below to access to the item online.
If you would like for Fletcher Design Consultants to create a design just for your home, please contact us. We would love to help!