Today's design rendering is a serene traditional living room with a blue and green color scheme.
The living room is flanked by windows and has a seating area in the middle.
The pieces that were selected are not trendy, so they should not go out of style anytime soon.
I hope this design inspires you while decorating your living room.
If you appreciate the design, please subscribe to our mailing list on the right side of the screen.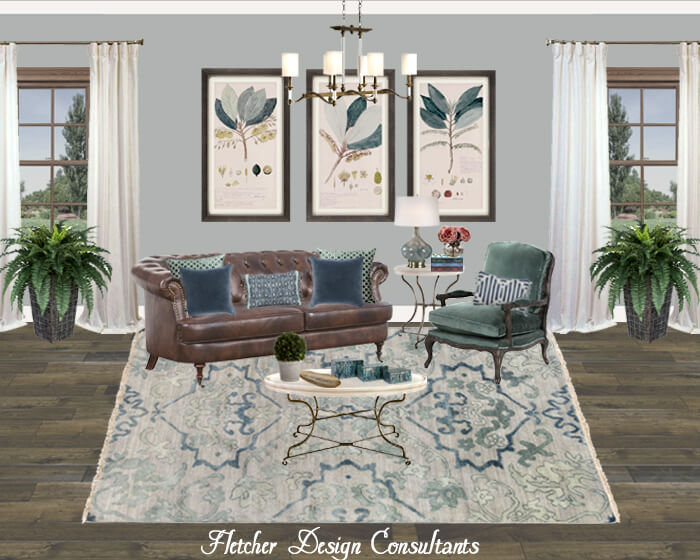 (Disclaimer - This website contains affiliate links, meaning I get a small commission for purchases made through the links that offsets the fees associated with publishing this blog, however you will not pay any additional cost)
The gorgeous hand-knotted wool rug defines the color palette for this living room.
It has a navy or denim blue and emerald or sage green pattern on a light gray background.
The fringe adds to the traditional feel.
On top of the rug is a traditional top-grain leather sofa.
The Chesterfield style sofa has button tufting and a rolled arm with nailhead trim.
The sofa is topped with 3 pillows - two green and gold pillows, two solid blue pillows, and a patterned blue pillow that replicate the color scheme in the rug.
Also on top of the rug is a gorgeous traditional accent chair with an ornate wood frame and soft green upholstery.
On top of the chair is a blue and white lumbar pillow.
The pewter toned metal and white wood coffee table holds several accessories, including a topiary plant, metallic leaf tray, and a set of three mosaic glass boxes.
A beautiful blue gray lamp with brushed brass accents, a set of colorful classic hardback books, and a vase of pink roses sit on top of the end table that compliments the coffee table.
Each of the two windows is surrounded by luxurious white curtains and has a fern plant in front to bring the outside indoors.
On the wall is a set of three oversized framed pieces of botanical giclee art that ties into the color scheme set in the rug.
Above the room hangs a traditional English bronze light fixture with ivory shades in a unique shape.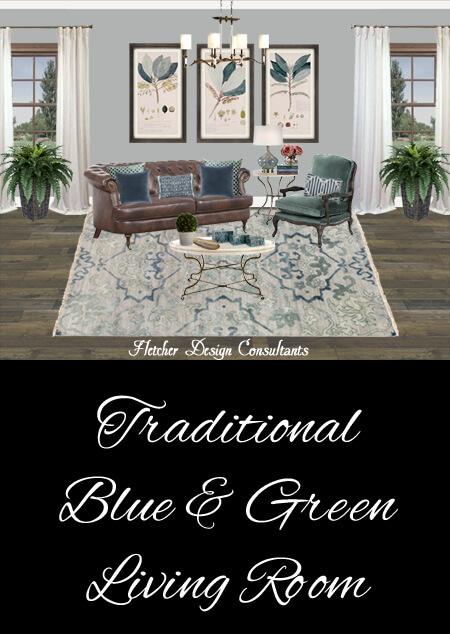 Click on the word below to access to the item online.
Blue Patterned Pillow on Chair
Colorful Classic Hardback Books
If you would like for Fletcher Design Consultants to create a design just for your home, please contact us. We would love to help!