We were inspired to create this modern farmhouse bedroom design for people who like the farmhouse look but prefer a more modern aesthetic.
This bedroom blends a few farmhouse pieces that are not overly ornate with modern elements that are not too industrial for a truly unique and custom look.
The color palette in this bedroom is black, white, navy, and cream, which also lends itself to a modern style.
This bedroom design would be perfect in a country home or a more casual home in the city.
If you would like to receive interior design and decorating ideas via email, please subscribe to our mailing list on the right side of the screen.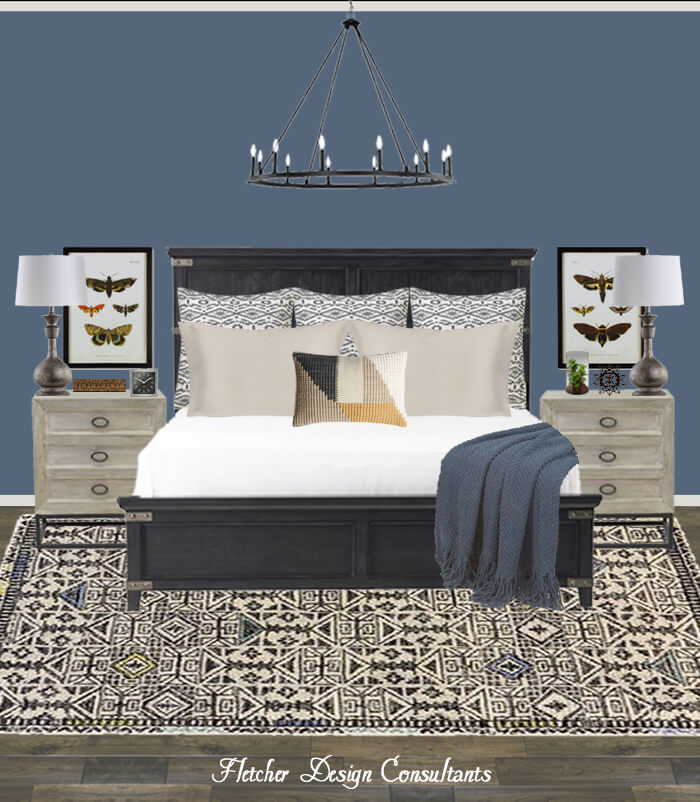 (Disclaimer - This website contains affiliate links, meaning I get a small commission for purchases made through the links that offsets the fees associated with publishing this blog, however you will not pay any additional cost)
The base of this bedroom design is the modern rug laying on hardwood floors.
The colors in the hand-tufted wool rug are primarily black and creme, however there are small portions that are yellow, green, and blue.
In the center of the room is the black farmhouse bed.
The bed has a modern twist with the metal brackets on the corners.
On top of the bed are 3 euro pillows in black and white in a similar pattern to the rug.
In front of them are 2 cream pillows and a modern lumbar pillow in white, cream, yellow, and black.
A navy throw blanket on the bed adds softness and repeats the navy blue color in the bedroom walls and in the rug.
Flanking the bed are modern nightstands in a cream painted wood with modern metal bases and drawer pulls.
Above each nightstand is a similar yet different modern piece of art depicting moths that repeats the colors in the bedroom's color scheme.
On top of the nightstands are simple farmhouse style lamps, a gold decorative box, a modern clock, a small terrarium, and an iron sculpture.
Topping off the modern farmhouse bedroom is a simple yet large farmhouse chandelier that feels almost like a crown on top of the bed.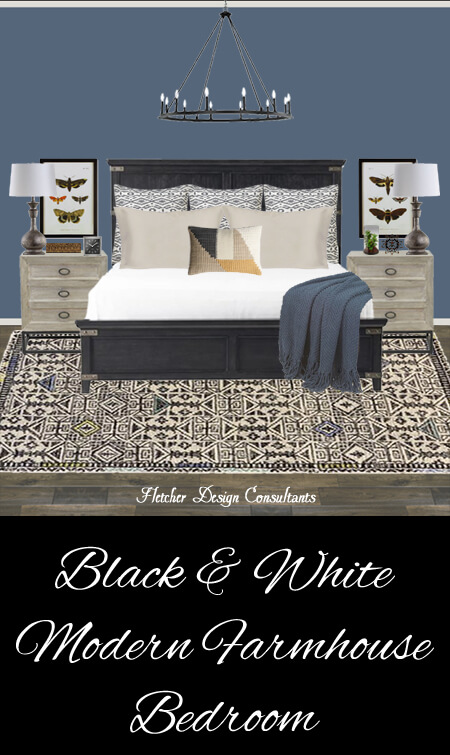 Click on the word below to access to the item online.
If you would like for Fletcher Design Consultants to create a design just for your home, please contact us. We would love to help!