Almost everyone who lives in a warm climate requires ceiling fans in order to cool their homes, however ceiling fans are typically not very attractive. Most interior designers hate them, however they are a necessary evil for some. Luckily, there are a few ceiling fans that are not overly unattractive.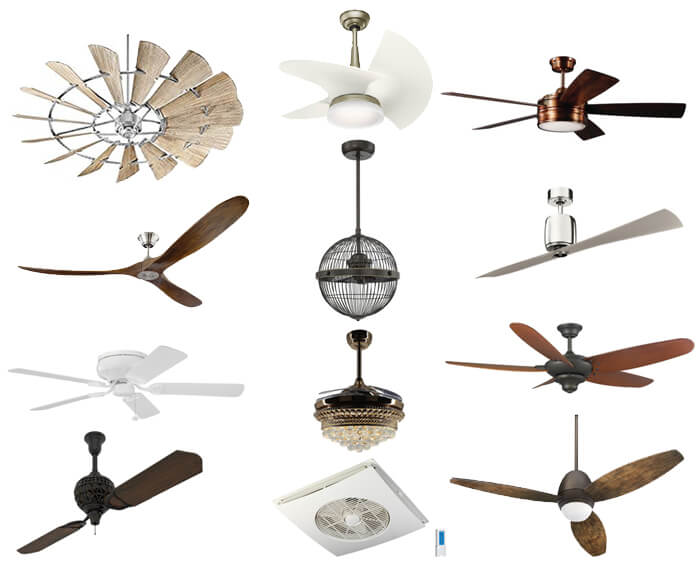 (Disclaimer - This website contains affiliate links, meaning I get a small commission for purchases made through the links that offsets the fees associated with publishing this blog, however you will not pay any additional cost)
Before we discuss the designer approved ceiling fans, we should discuss the aspects of ceiling fans that most people find unattractive. Keep in mind that this is personal preference, so if you like something that others don't, then ignore them and be happy. If you are unhappy with your ceiling fan and can't quite figure out why, then keep reading.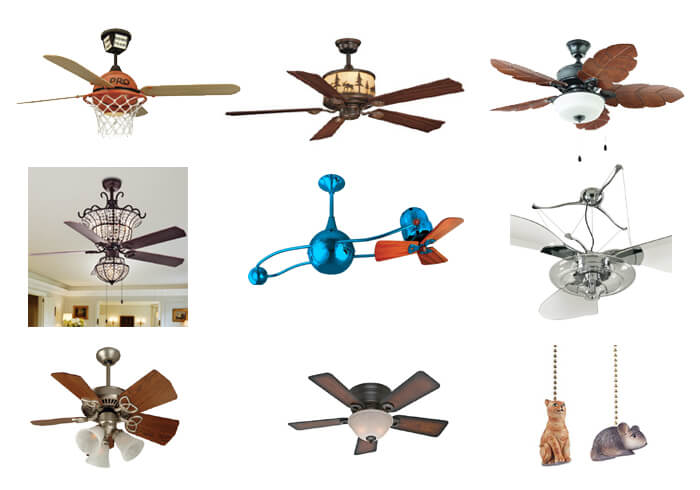 1) Avoid using a ceiling fan that is juvenile. Feel free to decorate your kids' rooms with whatever they like, however try to keep the architectural elements of your home coehsive.
2) Avoid using a ceiling fan that has a theme. Themes tend to be juvenile and gimmicky.
3) Avoid ceiling fans that try to be something else or are a weird mix of styles. It can't be both a formal crystal chandelier and a basic ceiling fan.
4) Avoid ceiling fans that are just plain odd. Weird is just weird, not cool.
5) Avoid ceiling fans with exposed light bulbs. They are not pretty.
6) Avoid ceiling fans with a "boob" light. OK, this is not the worst offender, but it still makes the list.
7) Avoid ceiling fans with pull chains. If you do have pull chains, avoid decorative knobs on the end.
Now that I am done with my rant, lets talk about the designer approved ceiling fans.
Click on the Ceiling Fan Names to Learn More About Them.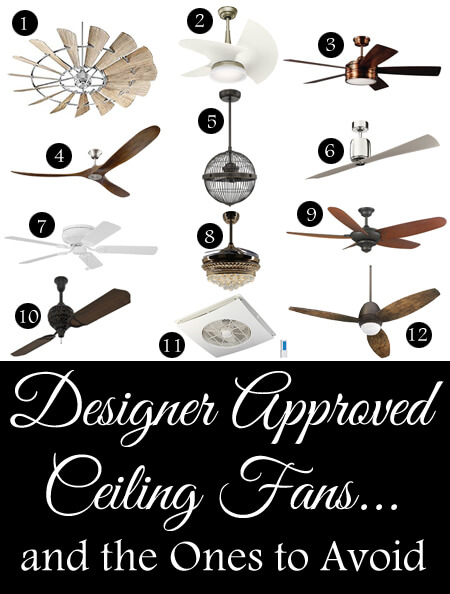 1) Quorum 9 72" Ceiling Fan - This ceiling fan is not "designer approved" for all homes, however it would look nice in a farmhouse style room with vaulted ceilings.
2) 30" Orchid 3-Blade Ceiling Fan - This ceiling fan is a little gem. It does not attract too much attention, but it looks fabulous if you happen to look up.
3) 52" Legendre 5 Blade Ceiling Fan - I don't remember ever seeing a copper ceiling fan before this one. It is really special, but it is also simple and classic.
4) Monte Carlo Maverick 70" Ceiling Fan - This modern ceiling fan with hand carved blades is simple and sleek. It can be used indoor or outdoor.
5) 18" Hali Pendant Ceiling Fan - At first glance, most people would never know that this pendant light is actually a ceiling fan. Another perk of this ceiling fan is that the blades are safely within a cage.
6) Kichler Ferron Ceiling Fan - Simple and sleek, but definitely not boring, this ceiling fan wows with its polished chrome finish and modern design.
7) Kichler Stratmoor Ceiling Fan - Yes, this is a plain boring ceiling fan. Guess what... that is great. It has no light kit, which is ideal since lamps at eye level provide much better light. It is unobtrusive and hiding in plain sight.
8) Hall of Lamp 42.5" Ceiling Fan Cerystal Chandelier with 4 Retractable Blades - I know, I know... I said chandelier ceiling fans are a bad idea, but this ceiling fan has hidden blades. The blades extend only when the fan is spinning, else they are out of sight. If you plan on keeping your fan running at all times, then this is probably not the best idea for your home, but it would be nice if you only use the ceiling fan on occasion.
9) Home Decorators Altura 60" Oil Rubbed Bronze Ceiling Fan - My parents had this fan in their last house and we loved it. The high speed only turned about half as fast as a normal fan, but it actually put out more air. It is a large ceiling fan that is perfect for great rooms. This ceiling fan can also be used outside.
10) Hunter 60" Limited Edition Ceiling Fan - This ceiling fan is a nice blend of traditional and contemporary with a touch of industrial styles. It has a simple design, yet it also has some ornate detailing.
11) Dropped Ceiling Tile Fan - This ceiling fan looks like a bathroom exhaust fan, but it is not. It is made for rooms with a dropped ceiling. This ceiling fan is not exciting at all, but it is purely utilitarian. Please do not add a traditional down rod ceiling fan to a room with a low ceiling height and ceiling tiles.
12) Quorum 3 Blade Ceiling Fan - This ceiling fan is simple in design, but it has a nice design with a light kit.
If you would like for Fletcher Design Consultants to create a design just for your home, please contact us. We would love to help!