The predominant colors of most baby nurseries are baby pink and baby blue.
The typical prints are polka dots, toile, chevron, and stripes.
If there is a graphic print, it is normally a cartoon animal.


Instead of investing in juvenile decor for your baby's nursery that they will soon outgrow, consider decorating their nursery in a style that will grow with them.
I have created a Victorian inspired nursery design to present other unique ideas for decorating a baby nursery.
If you appreciate this design and would like to receive interior design and decorating ideas via email, please subscribe to our mailing list on the right side of the screen.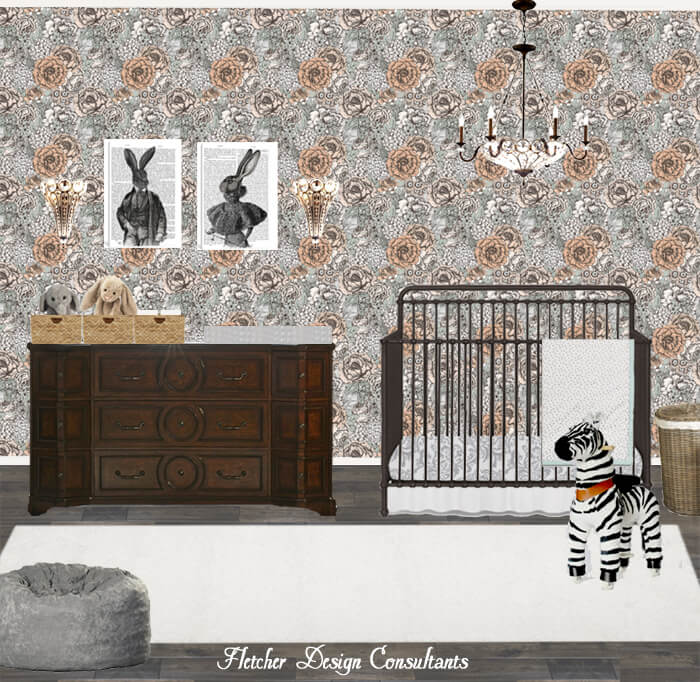 (Disclaimer - This post contains affiliate links, meaning I get a small commission for purchases made through the links that offsets the fees associated with publishing this blog, however you will not pay any additional cost).
The gorgeous floral wallpaper is definitely the focal point of the room.
If you have heard horror stories about people struggling to remove wallpaper, do not be afraid because this wallpaper is removable.
The wallpaper's peach, gray green, gray, black, and white colors set the color scheme for the room.
Unlike many baby nurseries, this color scheme is quite muted and calming.
On the floor is a fluffy white flokati rug that baby would be comfortable learning to crawl on.
A whimsical zebra rolling toy will provide amusement for baby and the plush gray bean bag chair will allow guests to relax near the floor during playtime.
The top of the dresser is currently serving as a changing table with several baskets containing diapers and toys.
Putting a changing pad on top of a dresser eliminates the need for a changing table that is only needed for 2 or 3 years.
This vintage styled metal bed will compliment many decor styles.
A convertible crib is another way to invest in furniture pieces that grow with your baby.
This crib converts from a crib into a toddler bed, day bed, and full sized bed.
Wicker baskets can be used to contain dirty laundry, toys, extra linens, and more.
They add texture and a wood element that helps make the room feel cozy.
The most whimsical part of the room is the artwork depicting cute rabbits dressed in historic Victorian clothing.
They just make me smile.
On either side of the rabbits are wall sconces that compliment the Victorian inspired crystal chandelier hanging from the ceiling centered over the crib.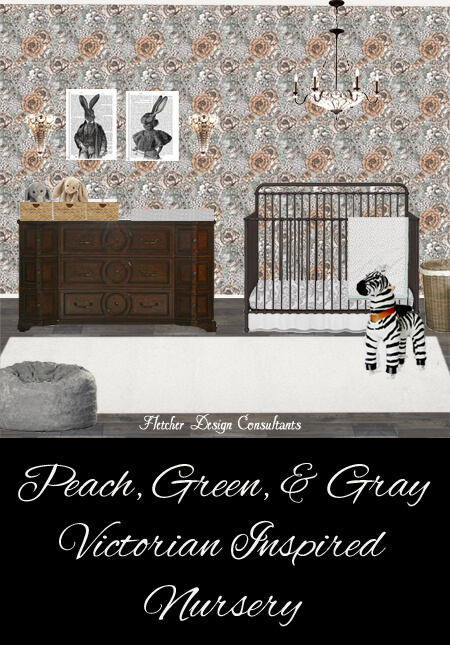 Click on the word below to access to the item online.
Cylindrical Floor Wicker Basket
If you would like for Fletcher Design Consultants to create a design just for your home, please contact us. We would love to help!