Many people have strong opinions when it comes to decorating a kitchen countertop.
Some people will say to only display a maximum of two items while others feel the need to display every beautiful kitchen item that they own.
My personal opinion is to only keep the items you use at least once a week on your countertops and everything decorative needs to also be functional.
Typically, the more traditional and casual the interior design, the more items can be on the kitchen countertop.
The more modern and formal the home, the fewer items should be on the kitchen countertop.
Here are a few common items that I regularly use to decorate kitchen countertops, as well as what you should avoid.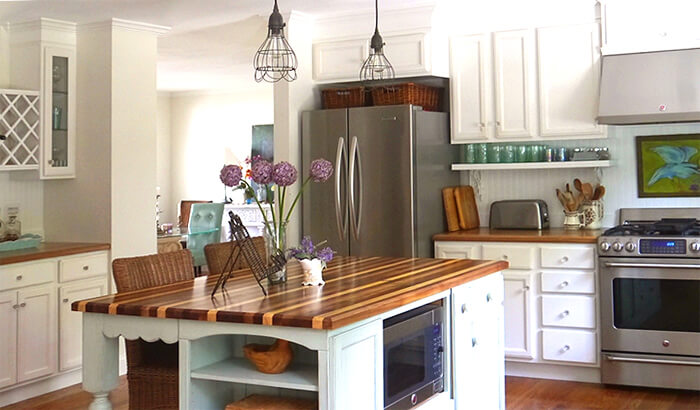 photo courtesy of Cynthia Crane flickr.com/photos/cynthiacranesart/15011728865
(Disclaimer - This post contains affiliate links, meaning I get a small commission for purchases made through the links that offsets the fees associated with publishing this blog, however you will not pay any additional cost).
Cutting Boards
I like to use wood cutting boards propped up against the kitchen backsplash to add a natural element to the kitchen, which is especially important in a white kitchen that can look a bit sterile if not decorated properly.
The cutting board does not take up much room since it is vertical and it can be used for its intended purpose when not on display.
You can use multiple shapes and sizes of cutting boards stacked in front of each other for a unique look.
Canisters
Many people want canisters on their countertops.
You can use opaque canisters, however I prefer clear glass canisters.
You can store sugar, flour, dried pasta, dried beans, rice, oatmeal, individually packaged snacks, K-cups, and other items in the canisters.
Here is my favorite large canister that I use in a grouping of 3 or 5 - Anchor Hocking 2-Gallon Heritage Hill Jar.

Stand Mixer
If you have a pretty stand mixer that is very heavy, feel free to keep it out but tucked in a corner.
Knife Block
Most people use knives every day, so it makes sense to keep a knife block on the countertop near the stove (as long as it looks nice).
Jar of Cooking Utencils
If you have an attractive jar or crock and some attractive cooking utensils that you use daily, feel free to display them on your kitchen countertop.
You will typically only want one vessel of utensils, but you can use two if necessary - one for metal and another for wood.
Get rid of duplicate utensils so your kitchen does not look cluttered.
Living Plant or Flowers
Feel free to add one living plant and/or one floral arrangement to your kitchen.
If you have a raised ledge in front of a window, you can display multiple plants there.
Do not make your kitchen look like a jungle or flower shop with excessive plants or flowers.
Decorative Soap Dispenser
The best place for dish soap is in a built in soap dispenser adjacent to your sink faucet.
If you want to have an additional soap dispenser for more gentle hand soap, make sure it is decorative and coordinates with the decor of your kitchen.
Decorative Tray or Basket for Smaller Items
Try to keep smaller items off your kitchen countertop.
If the items are used every day and you must keep them out, collect them inside a decorative tray or basket so they visually look like one item instead of a bunch of clutter.
Photo by Jennifer Grey Interiors Design & Color Specialist - Look for home design pictures
Tips
1) If you use your toaster, coffee maker, or any other small appliance every day, feel free to leave it out on your kitchen countertop, however spend a little extra money to make sure it is a very nice looking appliance.
Don't overdo it with many appliances, even if you use them every day. If you have a large kitchen, you can probably keep out 5 small appliances, but smaller kitchens can only keep out 2.
2) If you have many smaller appliances that you want hidden, consider using appliance garage or cabinet lift that keeps a heavy small appliance (stand mixer, bread maker, etc) inside your cabinet, but the inside shelf lifts up to countertop height when you need to use the item.
3) Keeping in mind that you are actually supposed to cook in your kitchen and have plenty of countertop space to prepare food, make sure to leave at least 75% of your countertops completely empty.
If you must have something to decorate that space, use a thin item propped up against your backsplash, such as a cutting board or platter that you actually use.
4) If you are staging your kitchen for a photo shoot, here are a few popular items to include to make your home look lived in, however you may not want to keep these items out on an everyday basis - fresh fruit in a bowl, fancy bottles of water (Pellegrino or Perrier), a cutting board with a loaf of bread on top, a two tier platter of cookies, a tea kettle or large pot on the stove, and an open cookbook.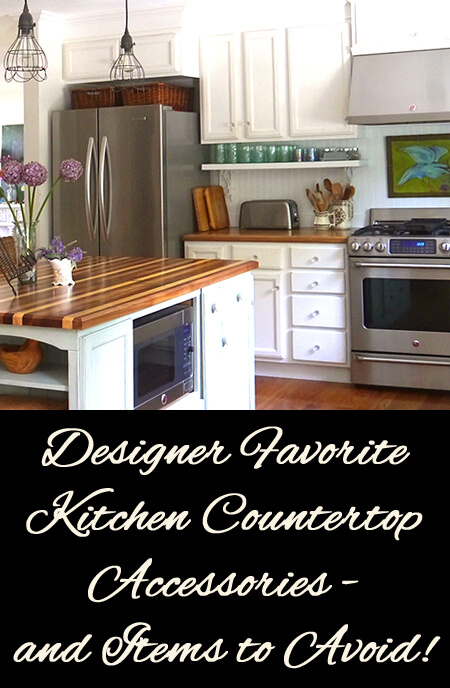 photo courtesy of Cynthia Crane flickr.com/photos/cynthiacranesart/15011728865
Here is the master list of items to avoid having on your kitchen countertops - anything that is purely decorative without a function (fake plants or fruit, platters that are not food safe, bottles of oil for decoration only, a vase without flowers, etc), paperwork, easel picture frames, ugly disposable containers of anything (dish soap, spices, etc), vitamins/medication, figurines, duplicate items that can be donated to someone else, candles, food that belongs in a pantry (even if you use it every day), a dish drying rack that is not used every day, a TV (use one that sits on a shelf or folds under the upper cabinet), dishes, a cookbook that you rarely use or a library of cookbooks (put them on a shelf or in a cabinet), a paper towel holder (hide it under the cabinet or the inside back of a cabinet door), small appliances that are not used every day, easel chalkboards (feel free to hang them on the wall), a box of tissues, non-kitchen items, and a lamp (use under cabinet lighting).
If you would like for Fletcher Design Consultants to help you with your kitchen interior design, please contact us. We would love to help!