There are many characteristics of expensive custom homes that are missing from less expensive homes.
Often times homes in subdivisions are mass produced and the builders cut corners during construction in order to save money and make a greater profit.
Expensive homes are also properly decorated by a professional instead of using popular "one size fits all" items from a local big box store.
Even if your home was not originally custom, you can change it to make it look more expensive.
Here are some suggestions to upgrade your home and avoid mistakes that make it look cheap.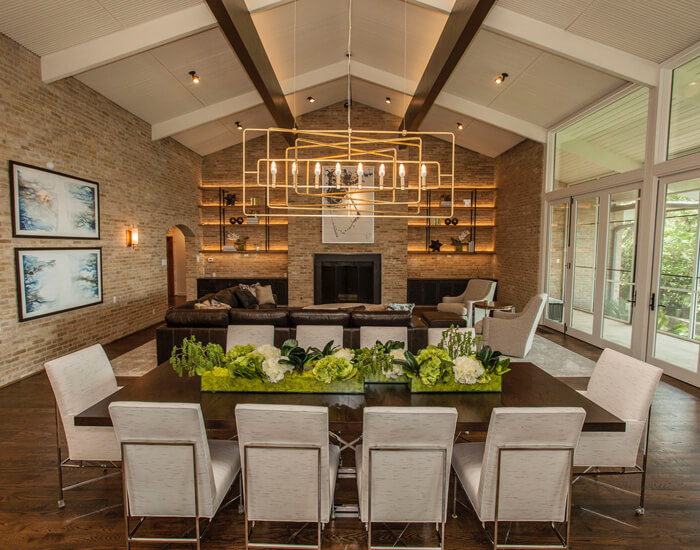 photo courtesy of Brent Eckley flickr.com/photos/96831183@N08/28665516526
(Disclaimer - This website contains affiliate links, meaning I get a small commission for purchases made through the links that offsets the fees associated with publishing this blog, however you will not pay any additional cost)
We will start by discussing the architectural elements of a home.

Flooring
In order to save money, many production builders install cheap wall to wall carpeting throughout homes.
In order to make your home look more expensive, install hardwood floors or natural stone floors instead of carpet.
If you like the feel of carpet, use hand woven area rugs (not machine woven).
Lighting
Builders like to install the cheapest light fixtures in order to save money.
Unless you selected the light fixtures yourself, they are most likely too small, too generic, and too boring.
Select new light fixtures for your home that have a bit of personality and compliment your design aesthetic.
Make sure the light fixtures are the correct size for your room.
Look online for unique light fixtures instead of shopping at your local home improvement store down the street (they only display a few options that everyone has seen before).
Woodwork
Cheaper homes typically only have simple baseboards and door trim. There is no crown molding on the walls or on the top of basic kitchen cabinets.
Mid priced homes typically have the same baseboards and door trim as lower priced homes, but also some crown molding and a dinky chair rail with drywall below in the dining room. There will be crown molding on top of basic kitchen cabinets.
High end custom homes typically have taller baseboards, larger crown molding, and trim around all of the doors, windows, and cased openings. If there is a chair rail in the dining room, there will be woodwork below it instead of drywall. The kitchen cabinets will be custom made with extra features like pull out drawers in the lower cabinets.
If you want your home to look more expensive, add more molding or add additional pieces to your molding to make it look larger and more expensive.
Bathrooms
Cheaper homes have lower quality white bathroom cabinets with cultured marble countertops, a plain basic faucet, and a frameless mirror stuck to the wall. The light fixture is typically a Hollywood style light bar with exposed bulbs.
Mid priced homes have slightly higher quality cabinets with cultured marble countertops, a lesser expensive faucet, and a frameless mirror stuck to the wall. The light fixture is a tiny bit better than the Hollywood light bar, but definitely nothing exciting.
High end custom homes have custom made cabinets, unique stone countertops, elegant faucets, framed beveled mirrors, and designer light fixtures. There is often floor to ceiling tile on certain walls.
If you want your home to look more expensive, paint your cabinets, perhaps replace your countertops, but definitely replace your faucets, mirrors, and light fixtures. For extra drama, tile the wall behind your vanity from the countertop to the ceiling (make sure to remove any short backsplash that matches your countertops before tiling).
Here are some decorating situations that can make your home look more expensive or mistakes that make your home look more cheap.
Clutter
Even the most expensive homes can look cheap if they are cluttered full of stuff.
You know the saying - a place for everything and everything in its place.
Do not have magnets stuck to your fridge because it looks messy.
Do not have paperwork out on a countertop or table. If you must keep it out, put it in a decorative basket to contain it.
Purses, phones, backpacks, and other everyday items need a home instead of being thrown on the floor or countertop.
Clean and tidy should always be the motto.
Fewer and Higher Quality
Well decorated homes are decorated using fewer items of higher quality.
The artwork is very large, but there is one piece instead of three.
The bookshelves have one amazing item per shelf instead of many smaller items.
Expensive homes are not filled with little knick knacks and trinkets all over the place (if there are smaller items, the items are collected in one small area so the collection acts as one item).
An expensive item surrounded by cheaper item makes the expensive item also look cheap.
Ditch the cheaper items without sentimental value and only keep a few really nice decor items.
Artwork
The most important trick for making artwork look expensive is to frame it properly.
A piece of canvas art will look several times more expensive if you put a nice frame around it.
If you have a print, put it behind glass with a mat and a frame which will make it bigger because of the mat and also make it look more expensive.
Your artwork does not have to be expensive - you can take your own photos to use as art, as long as they are framed well.
You might also consider doing an abstract painting on a large canvas.
Don't forget about the tip above pertaining to fewer and higher quality.
A decorating mistake people often make is randomly hanging smaller pieces of art at varying heights, which makes the home look cheap.
Please refer to my article Tips and Tricks for Hanging Art for more information.
Throw Pillows
In most cases, square throw pillows less than 20" x 20" on a sofa will look cheap.
Euro pillows for a bed are typically 26" x 26".
Using wimpy small pillows in your home is a mistake that will make your home will look cheap, even if it isn't.
Quality throw pillows should have the same pattern on the front and back, instead of a cheaper material on the back.
For extra plump throw pillows, select a down pillow insert that is 2" wider than your pillow cover.
You might enjoy reading my other article The Difference Between a $50 Throw Pillow and a $250 Throw Pillow.
Scale
Scale basically means how the size of items relate to each other.
You don't want a smaller scale chair next to an oversized sofa, else the chair will look like it was made for a child.
You don't want a sofa too large so you have no room to walk around it.
You don't want a tiny piece of artwork over a huge fireplace or vice versa.
Curtains and Draperies
Most people purchase ready made curtains that are almost always the incorrect size for their windows.
If you want to spend 10x the amount of money, you can pay for custom curtains and installation.
If you want to spend a little more money than ready made, consider getting semi-custom curtains at a store like JCPenney (wait for a sale).
A lesser expensive alternative is to slightly modify ready made curtains to fit your windows. You can sew several panels together to create a 2x-3x fullness (the curtains should be 2-3 times as wide as the curtain rod) that is suggested. You can buy longer curtains and hem them to fit your windows.
For more information, see my article The Correct Way to Hang Curtains and Drapes.
Cutesy DIY
Filling your home with the latest cutesy DIY trends from Pinterest is a mistake that will make your home look cheap.
These DIY projects are typically made using inexpensive materials and poor craftsmanship, since most homeowners are not professional craftsmen.
Skip the DIY trends and spend your money and time on quality items.
If you would like for Fletcher Design Consultants to help you make your home look more expensive, please contact us. We would love to help!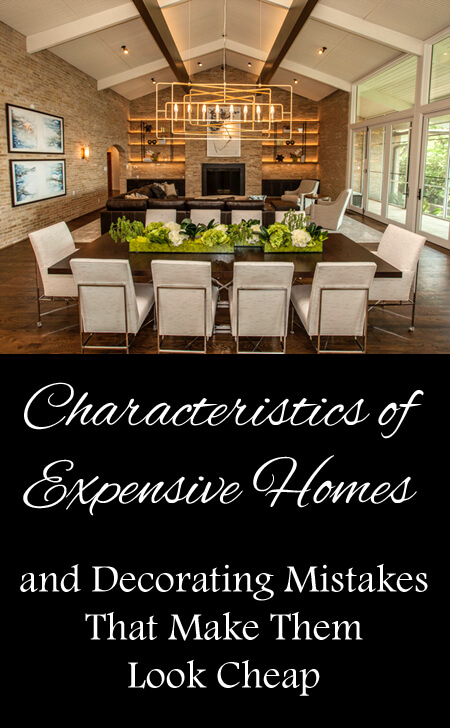 photo courtesy of Brent Eckley flickr.com/photos/96831183@N08/28665516526