Like most decorative products, there is a wide range of prices for throw pillows.
Sometimes throw pillows cost more because the manufacturer is very proud of their product.
More often, the price of throw pillows is reflective of the quality of materials and workmanship.
Depending on the quality you desire for the decor in your home (as well as your budget), you might prefer a $50 throw pillow, or you might opt to upgrade to a $250 throw pillow.
Here is a list of the typical differences between a $50 throw pillow and a $250 throw pillow.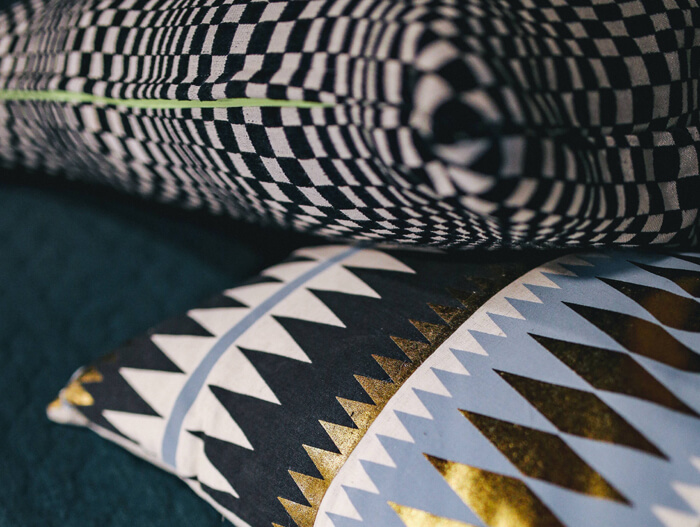 photo courtesy of kaboompics.com/photo/4216/close-up-of-pillows-on-a-bed
(Disclaimer - This website contains affiliate links, meaning I get a small commission for purchases made through the links that offsets the fees associated with publishing this blog, however you will not pay any additional cost)
Hidden Zipper
All $250 throw pillows should have a zipper to make the cover removable.
Having a removable cover allows you to clean the cover if necessary.
Some $50 throw pillows will have a zipper, however most will not.
Inside
The best quality throw pillows are filled with a pillow insert that is 50% down and 50% feathers.
Make sure your down/feather pillow insert has a good quality protective cover, else the feathers will poke you through the fabric.
Pillows with less down and more feathers are not as high quality, but still better than polyester or cotton filling.
A quality 50/50 down and feather pillow insert (without the decorative cover) can easily cost $150 or more, depending on size.
If you do not care for down, select a down alternative pillow insert.
I would suggest purchasing a decorative throw pillow cover that you like, then purchase a pillow insert separately in order to get exactly the pillow quality and aesthetic that you want.
Fullness
The fullness of throw pillows affects the price.
A $250 throw pillow is extra full by having a pillow insert that is 2" bigger, so a 20" x 20" pillow cover will have a 22" x 22" pillow insert.
Less expensive pillows have less stuffing, so they are cheaper and tend to look flat and limp.
Size
Pillow size has a large affect on price. In nearly all cases, you should not own a square decorative throw pillow that is less than 20" x 20" (rectangular lumbar pillows can have one side less than 20").
Lesser expensive throw pillows are often 16" x 16", which is too small for most applications and will look out of scale.
Euro pillows on a bed are typically 26" x 26".
Obviously, larger pillows cost more.
Fabric
The materials that the fabric is made of, as well as the skill level of the fabric designers and manufacturers, is the majority of the difference in cost between a lesser expensive or more expensive fabric.
Another reason for a difference in the price of fabric is the quantity of fabric that is manufactured. Fabric purchased at craft or sewing stores is produced in large quantities, bringing the price down. Designer fabric is produced in lesser quantities with greater attention to detail, making it more exclusive, so that increases the price.
Both Sides
When selecting a quality throw pillow, make sure to look at both sides.
$50 throw pillows often have a quality fabric on the front, but a cheaper solid fabric on the back.
$250 throw pillows should have the same quality fabric on the front and the back.
Quality of Workmanship
$250 throw pillows have a quality construction.
$50 throw pillows are typically not constructed with as much care or attention to detail.
Less expensive throw pillows may not have the pattern align at the seams.
If you order multiple less expensive pillows, the pattern may not align the same way on all pillows.
Lesser expensive pillows may not align the center of a pattern to the center of a pillow.
Custom
Any item that is custom made exclusively for you will cost more.
Many $250 throw pillows are custom made to your exact specifications, so that is another reason for the higher cost.
Unless you are sewing it yourself, custom throw pillow cost much more than $50.
If you would like for Fletcher Design Consultants to help you with your throw pillows, please contact us. We would love to help!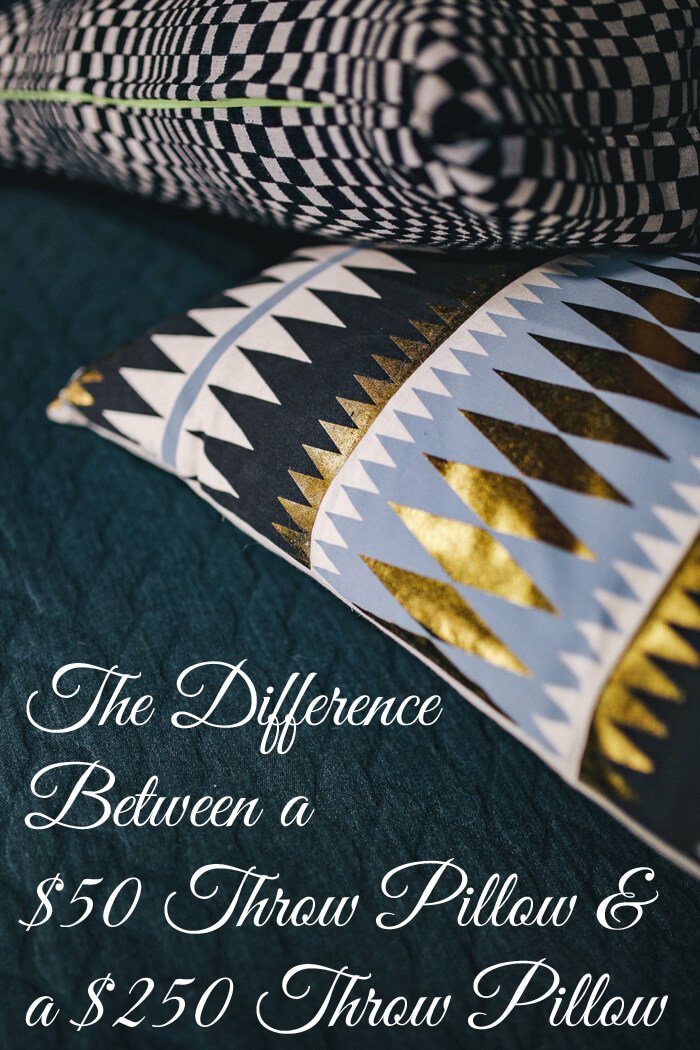 photo courtesy of kaboompics.com/photo/4216/close-up-of-pillows-on-a-bed