Most of my clients this year want white quartz kitchen and bathroom countertops, however they don't realize that there are so many options.
When selecting a white countertop, make sure you realize that just because there is "white" or "blanco" in the name of the color, doesn't mean that it is a true white.
The image below shows just a few of the white options available.
So, how do you select the best white quartz countertop for your home?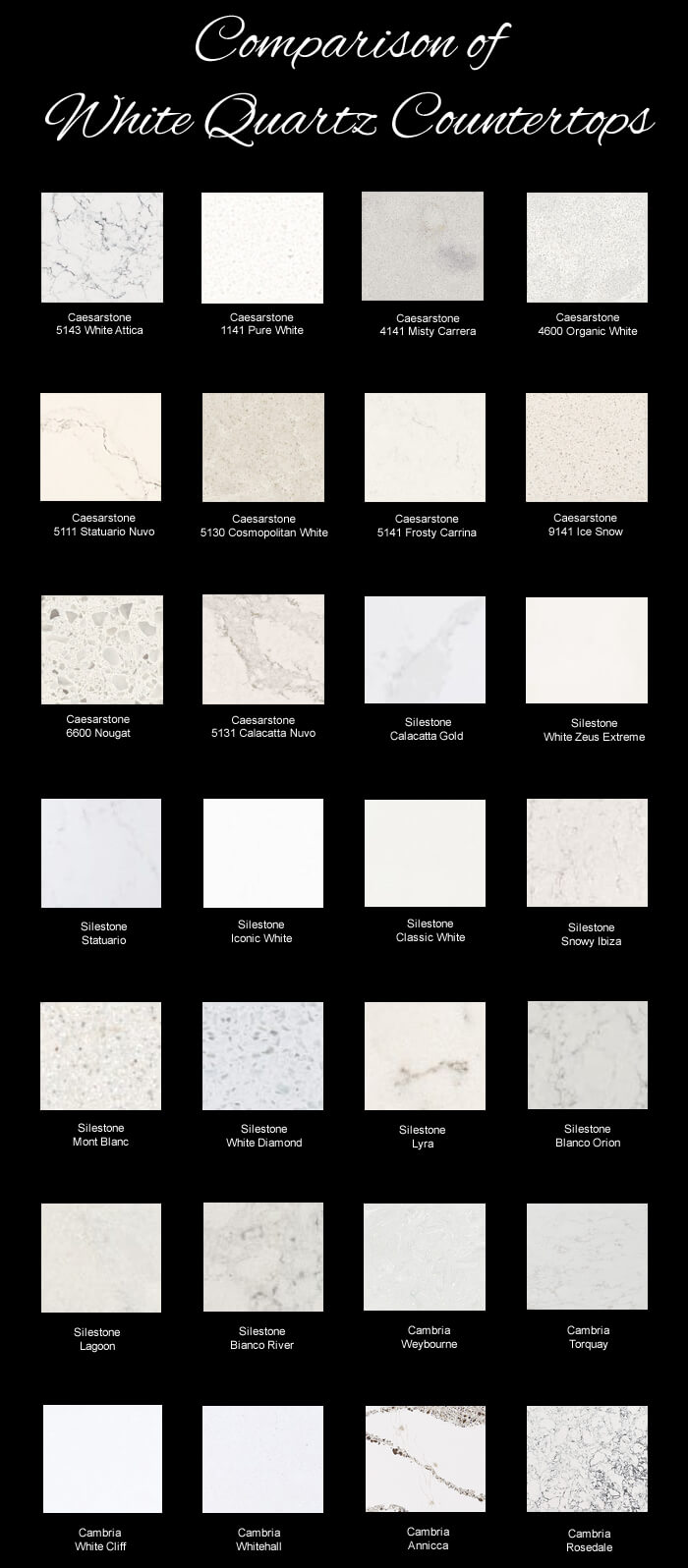 (Disclaimer - This website contains affiliate links, meaning I get a small commission for purchases made through the links that offsets the fees associated with publishing this blog, however you will not pay any additional cost)
Color
The first decision you need to make when selecting a white quartz countertop is the color.
Do you want a true white or a white that has a slight beige, gray, or blue undertone.
You must consider the color of the items around the countertop, such as the cabinets and backsplash.
I would highly suggest bringing a countertop sample inside your home and looking at the color in your kitchen or bathroom before making a final decision.
Pattern
Some white quartz countertops are a solid color without a pattern, others have a minimal pattern, and some have a large pattern.
Make sure to look at a large sample of the quartz to ensure that you like the overall pattern because small samples can be deceiving.
I tend to like slabs whose pattern does not try to mimic another material, such as marble.
Surface Finish
Different manufacturers offer different surface finishes for their quartz.
Not every slab is available in every finish.
Finish options include suede, volcano, polished, matte, honed, and high gloss.
Edge Profile
Many edge profiles are available for quartz countertops, including double pencil, waterfall, reverse waterfall, mitered, slanted mitered, square, ogee, reverse ogee, ogee over ogee, short ogee, chisel, bevel, double bevel, reverse bevel, bullnose, half bullnose, rounded, and eased.
Slab Size
Different quartz countertop manufacturers offer their slabs in different sizes, however not all slabs are available in every size.
Slab size is important when trying to reduce the amount of countertop seams or select an exact location of the seam.
Currently, Cambria's standard sized slabs are 55-1/2 inches by 122 inches and their jumbo slabs are 65-1/2 inches by 132 inches.
Silestone's standard slab size is 55 inches by 120 inches and their jumbo slab size is 63 inches by 128 inches.
Caesarstone original slabs are 56-1/2 inches by 120 inches and their jumbo slabs are 65 inches by 130 inches.
Thickness
Quartz countertops come in different thicknesses. Most slabs are available in thicknesses between 1cm and 3cm.
Special Finish
Some quartz countertops are available in special finishes, such as Silestone's N-Boost that is extra shiny, extra stain resistant, and extra brilliant colored.
Availability
Some slabs are available only through certain retailers, such as Home Depot.
Some quartz manufacturers will discontinue some patterns after a few years while others never discontinue their patterns.
Warranty
Make sure to consider each quartz countertop manufacturer's warranty when deciding which slab is best for your kitchen or bathroom.
Price
Different slabs will vary in price, even from the same manufacturer.
If you are trying to decide between several different quartz countertop options, you might want to have your countertop installer price several options from several manufacturers to allow price to help you make a decision.
If you would like for Fletcher Design Consultants to help you select countertops for your kitchen or bathroom, please contact us. We would love to help!