My parents recently moved over 1,000 miles away. Sorting and packing everything in their home took months, since they lived in that home for over 40 years.
Their home was professionally decorated around 1990, so some of their home decor from that era was dated and did not make the trip.
Other items in their home were not very high quality and not worth the cost or effort of moving them.
Here is a list of their furniture and decor items purchased nearly 30 years ago that my parents decided to take with them. Hopefully this list will help you determine what is timeless and a good investment when decorating your home.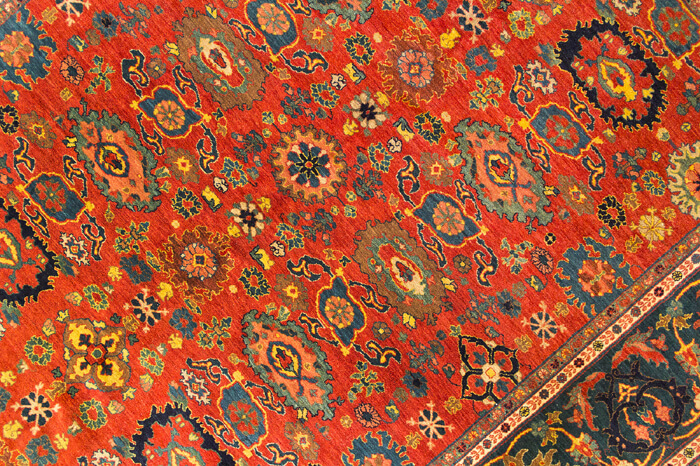 photo courtesy of Didriks flickr.com/photos/dinnerseries/12840936814/
(Disclaimer - This website contains affiliate links, meaning I get a small commission for purchases made through the links that offsets the fees associated with publishing this blog, however you will not pay any additional cost)
Oriental Rug
My parents are very frugal, however they spent a good amount of money in 1990 on an authentic oriental rug.
The rug is very large (probably 12' x 14'), is burgundy and navy, and has a classic oriental pattern with white fringe on two ends.
Different colors are trendy and popular during different decades, however their oriental rug is timeless due to its classic pattern and high quality.
There are many oriental patterned rugs available for purchase today, however only authentic hand knotted silk rugs or wool rugs are timeless (beware of artificial silk).
Avoid machine made rugs that tend to look cheap, especially on the edges.
Antique Furniture
My parents liked to go antique shopping, even before their home was professionally decorated (the same cannot be said for my sister and me at a young age).
They own a pair of antique twin beds, an antique dresser, a large antique armoire, an antique dining table and chairs, and maybe a few other items.
All of their antiques made the trip because they are timeless.
High Quality Sofa
My parents have owned many sofas in the past 40 years.
All of them have been given away or thrown away except one.
The sofa they kept is a high quality sofa purchased in the 1970's that has been reupholstered twice.
My parents' furniture salesman explained that everyday furniture needs to be very durable, however formal furniture that is rarely used can be lesser quality with more fancy fabric. He pointed out all of the quality features on that sofa and convinced my parents to spend more money for quality. Obviously he was right!
The frame is very strong and it is very comfortable.
Quality Dishes
My parents started collecting quality dishes in the late 1980's. They would get a few pieces every year to add to their collection.
They do not own the typical white china with a metallic band. Their dishes are made by Portmeirion, named Birds of Britain, which depicts different birds on each piece.
Their china is no longer in production, however Portmeirion does have a collection of dishes that are just as popular now as when they were first produced in 1972 named Botanic Garden.
When my sister and I were in high school, my parents got rid of their everyday dishes and decided to use their nice Portmeirion dishes as their everyday dishes. Why save your nice things just for your guests?
The dishes have held up beautifully, even in the dishwasher, and they still enjoy eating on them every day.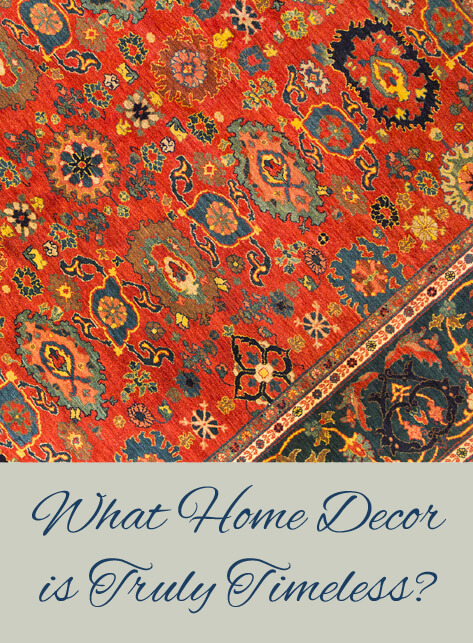 photo courtesy of Didriks flickr.com/photos/dinnerseries/12840936814/
Summary
In summary, if you are looking for decorative items or furniture for your home that is timeless, look to the past for inspiration.
If you are purchasing something new, make sure it is high quality if you want it to last for many years.
Consider reupholstering high quality furniture in a fabric that compliments your current style and color scheme instead of buying new.
Spend a bit more money up front to buy quality items that are timeless.
If you would like for Fletcher Design Consultants to help you select timeless home decor and furniture for your home, or have any other interior design need, please contact us. We would love to help!