Many people in our area are being forced to remodel their homes due to flooding related to hurricane Harvey.
If your home was flooded and you have to replace flooring, doors, cabinets, furniture, and more, make sure to create an overall cohesive design plan for your home before you start purchasing the exact same items that were previously in your home (unless you absolutely love everything that was in your home).
The flood was definitely not a good thing, however this is your opportunity to make your home into a cohesive reflection of your style and taste.
Here is a step by step guide to order to create an interior design plan, as well as a few professional designer tips and tricks.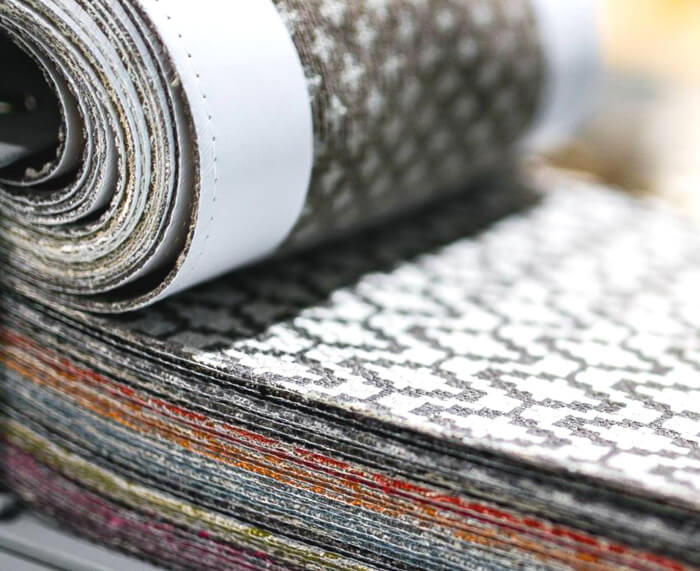 photo courtesy of kaboompics.com/photo/3131/album-of-design-material-samples
(Disclaimer - This website contains affiliate links, meaning I get a small commission for purchases made through the links that offsets the fees associated with publishing this blog, however you will not pay any additional cost)
Layout and Function
Consider the way your family lives when creating your interior design plan. Also consider how it may change in the next 5 years. Is a child going off to college, will a baby no longer need a crib, will your elderly mother be moving into your home, etc.
Since you are having to do construction to your home, it would not be too much more money to move a wall, remove a wall, or widen a doorway to accommodate your family better.
You used to have your sofa on a certain wall of your living room, but would it work better on a different wall, or would a sectional sofa work better in the space?
Your TV cable is wired to a certain wall, but would it work better to have your TV on a different wall?
Perhaps you should remove the furr down in your kitchen to allow your upper kitchen cabinets to go to the ceiling for more storage space.
Maybe your kitchen countertops should be extended to allow for bar seating.
Consider installing 36" tall bathroom cabinets instead of the older style 30" high cabinets to allow for more storage.
Just because your home used to be a certain way, does not mean it needs to be rebuilt the exact same way.
Measure
Use a tape measure to measure your rooms.
Use graph paper to draw out the room to scale, then draw your furniture to scale inside the room to ensure that everything fits.
Consider the free space around your furniture to ensure there will be enough space to move around in the room.
Make sure to consider the size of furniture when redesigning your home. If you want a king sized bed, make sure it will fit along the wall with a nightstand on either side. Don't assume, actually measure.
Designer trick - when measuring your space, put the tape measure on the ground. Measuring in the air casuses the tape measure to bend and you will get inaccurate readings.

Determine Your Design Style
The main reason for developing a cohesive design style for your home is to make it look thoughtfully decorated instead of a collection of random stuff put in a boring room.
Here are the steps for how to determine your design style.

Sign Up for Pinterest
If you do not have a Pinterest account, then sign up - its free!
Pinterest is basically a digital collection of photos that are organized in folders that you create.
You can add photos that you upload, photos from most any website (a few websites have photos that are not "pinnable" due to copyright), or "pin" photos from Pinterest's website.
Create Folders
Make folders for your home to organize your photos.
You can have a folder for kitchens, dining rooms, bedrooms, bathrooms, exterior, landscaping, window treatments, light fixtures, or whatever makes sense to you.
View my Pinterest profile for inspiration by clicking here - Kerry Fletcher - Professional Interior Designer.
Get the Pinterest Browser Button
Add the Pinterest browser button to your web browser toolbar by clicking here - Pinterest Browser Button.
The button will allow you to go to most any web page that has a photo that you like, click the button, then the photo will be added to the Pinterest folder of your choice.
Add Photos
If you have any photos that you have bookmarked in your web browser, go to that website and click your Pinterest browser button to add the specific photo to the appropriate folder. You can even add the same photo to multiple folders and label the photo if you want to make notes.
Next, search on Pinterest for design style ideas. You might want to search for country kitchens, modern bathrooms, crystal chandeliers, or whatever you think you might like.
Add all photos that appeal to you to your Pinterest folders.
Take your time and do a lot of research in order to get a wide range of ideas for your home.
Edit
After you have about 20-50 photos in a folder, start to edit.
Remove photos from your folders that you don't like as much as other photos.
Remove any photos that are too grand your your home and way out of your budget.
If you don't like the entire room, but there is a certain detail in a photo that you like (artwork, cabinet knobs, light fixture, chair, etc), then put it in a special folder for that detail and make sure to label it appropriately.
Find the Common Elements
After a while, you will start to notice that the photos in your folders will have certain elements in common.
If you have 50 kitchens pinned and 43 of the kitchens have white painted shaker style cabinets, then that is probably the cabinet color and style that appeals to you the most.
If the majority of the photos you saved have minimal accessories, then you most likely prefer a minimal design style.

Use the common elements you noticed from your Pinterest folders to help you determine your design style.
Please refer to my article What is Your Design Style? for more information.
Make Selections
When selecting all of the elements for your home, everything should fall within your selected design style. Do not deviate too much, else your home will not look well designed or cohesive.
Make sure to refer to your design style when making decisions for all parts of your home - the flooring, walls, ceiling, light fixtures, doors, woodwork, cabinets, furniture, and decor. Everything needs to work together.
Designer tip - most local home improvement stores have a minimal selection, however online stores have a much more diverse selection and often better prices.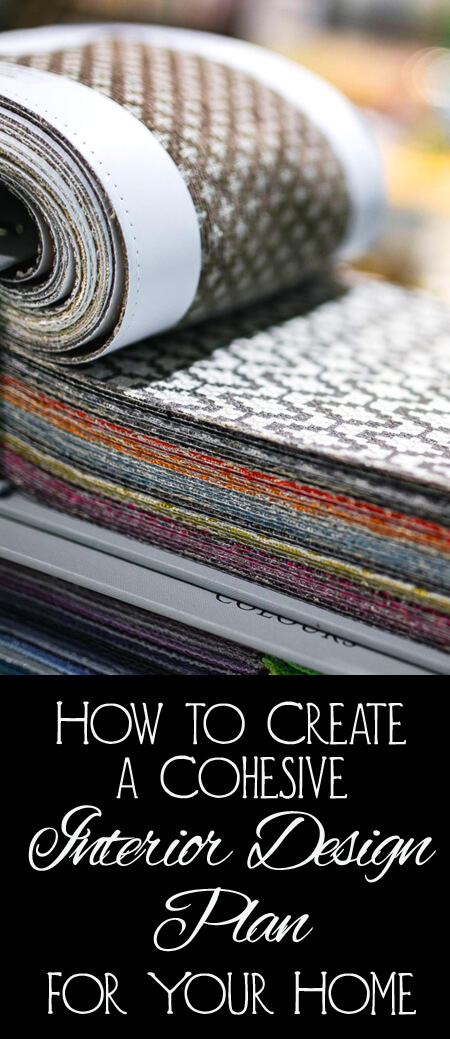 photo courtesy of kaboompics.com/photo/3131/album-of-design-material-samplesBe Prepared
Many contractors are used to doing things the same way over and over.
They use the same cabinets, the same baseboards, the same crown molding, the same flooring, etc.
Unless you want your home to look like everyone else's home, make sure to tell your contractor exactly which materials you want to use, else he may automatically use the ones he is familiar with.
Select the exact materials you want to use before your contractor asks you for them so you do not hold up the job (don't show him a magazine photo of something pretty and ask him to source it). Ensure the materials are in stock locally or can be delivered in a reasonable amount of time.
Decorating
While your home is under construction, you can work on the furniture and decorating.
Designer tip - unless you are purchasing one-of-a-kind items (such as antique or vintage furniture), don't get ahead of yourself and purchase items before your home is complete since they might get damaged or get in the way if they are in your home while construction is still going on.
Refer to your Pinterest boards for inspiration and stay within your design style.
Make sure to not buy furniture that is too big for your home (refer to the measure section above).
Avoid using mass produced items from your local home decor store, unless you want your home to look like everyone else's homes.
Shop online for a wider variety of unique items, often at better prices than in local chain stores.
I have personally had very good luck with many furniture and decor purchases for myself and my clients from Wayfair. Their customer service has always been very good to me and their prices are also very good.
If you would like for Fletcher Design Consultants to help you develop an overall interior design plan for your home, or have any other interior design need, please contact us. We would love to help!