Many people have very ugly or plain light fixtures above their bathroom mirrors.
These light fixtures were most likely selected by the home builder because of their low cost.
Upgrading these light fixtures is an inexpensive way to personalize your home, make it look more stylish, and increase its value.
Upgrading ugly or basic vanity light fixtures in your bathrooms with budget friendly yet stylish light fixtures can increase the value of your home by 5 to 10 times the cost of the light fixture.
Whether you prefer a traditional, modern, or contemporary aesthetic, there are many attractive yet budget friendly vanity light fixtures to choose from.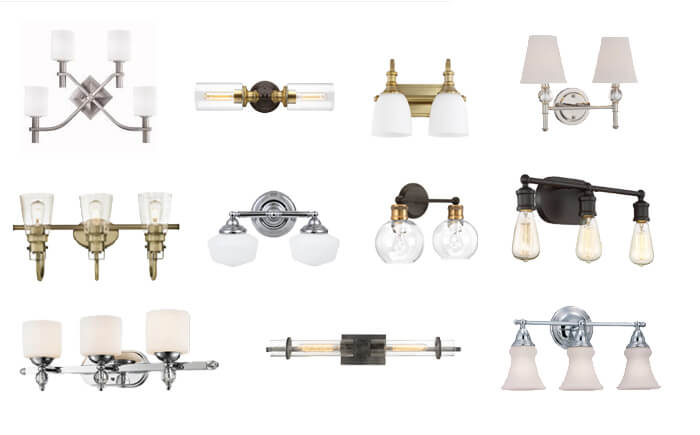 (Disclaimer - This website contains affiliate links, meaning I get a small commission for purchases made through the links that offsets the fees associated with publishing this blog, however you will not pay any additional cost)
Vanity Lights to Replace
Here is the bathroom vanity light that I see most often.

Most people call this a Hollywood light since it resembles lighting around an actor's makeup mirror.
If you have this vanity light in your home, then it is definitely time for an upgrade. These light fixtures cost around $10, so don't feel bad about getting rid of them.
There are many other vanity lights that are similar to this one, but might have a basic glass shade. These light fixtures should also be replaced.
Any light fixture that does not emit enough light should also be replaced.
A Better Alternative
If your budget allows you to hire an electrician, a better alternative to a light fixture above your bathroom mirror is light fixtures on either side of your bathroom mirror.
Lighting on either side allows for proper lighting of a person's face.
The Correct Vanity Light
When purchasing a vanity light fixture, whether above your mirror or beside it, the most important aspect is to make sure you have enough light.

Some light fixtures only allow certain wattages of light bulbs, others have shades that block out some light, and others point the light upward creating diffused light.
Know how much light you currently have in your bathroom, determine if you need more, less, or the same, and purchase accordingly.
A Few Designer Options
Here are a few budget friendly designer options for bathroom vanity lighting.
If you would like for Fletcher Design Consultants to help you select light fixtures for your home, or have any other interior design need, please
contact us
. We would love to help!