The focal point of your bedroom is most likely your bed, so it needs to look its best.
You can have the most beautiful bedding, but your bed won't have a designer look if it is not put together the right way.
Here are some basic steps for how to make a bed properly.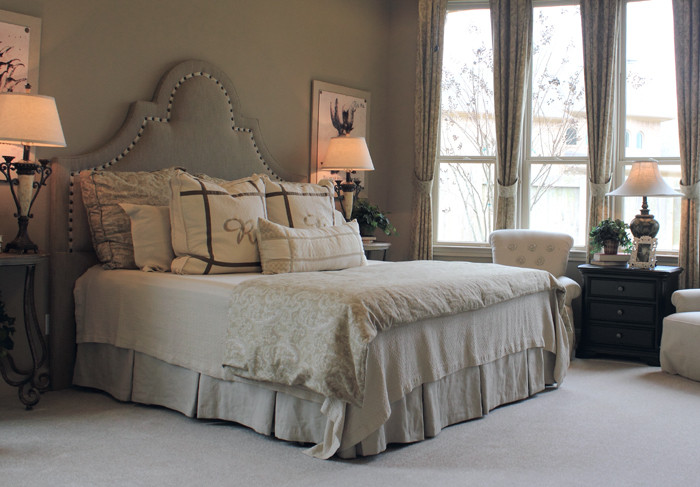 Interior design by Houston area home builder, photo by Fletcher Design Consultants
Bedding
You may choose to keep your comforter or duvet flat and not folded so it completely covers your sheets or you may wish to pull back the top sheet and other coverings to reveal a portion of the bottom sheet.
Both methods are acceptable, however it seems that not folding is currently the more popular choice.
Designer secret time - many bedding displays use 2 duvets inside their duvet covers, so feel free to use 2 if you want a luxurious fluffy bed (this might not be a good idea in warm climates).
Bed Skirt
If your box springs are at all visible, you must have a bed skirt or something else to cover them.
If you don't want to use a bed skirt, consider using another fitted sheet to cover your box springs.
Pillows
Most people either have too many pillows or too few pillows on their bed.
Your bed should have enough pillows to look luxurious, however you should not have so many pillows that there is no room to sit on the bed.
A good rule of thumb for a king sized bed is to have 3 decorative euro sham pillows (large square pillows) behind 2 standard rectangular decorative pillow shams, then maybe an accent pillow in front in the shape of your choice.
You most likely need to put the pillows you sleep with somewhere, so put them either behind the euro shams or behind the standard pillows.
Feel free to modify these pillow suggestions to your liking.
Smaller beds (queen, full, and twin) will need fewer pillows.
Queen and full beds will only need 2 euro shams and twin beds will need 1 euro sham and 1 standard sham.
Make sure to have a place to put the decorative pillows at night so they don't end up on the floor, such as on a chair or inside a cabinet.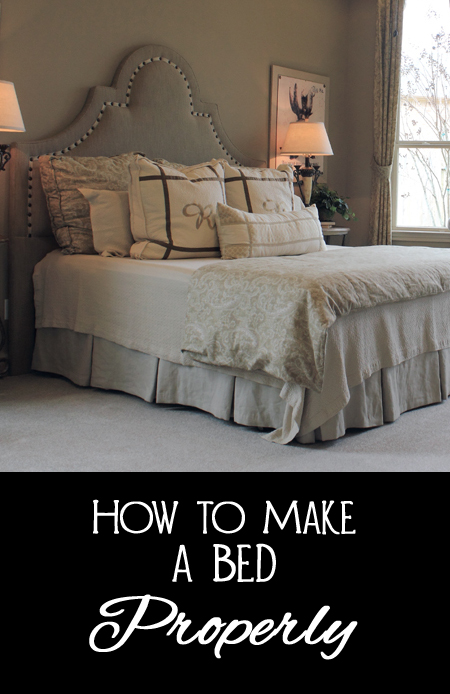 Interior design by Houston area home builder, photo by Fletcher Design Consultants
Bed Scarf
A hotel bedding trend that is making its way to residential homes is the use of a bed scarf.
In hotels, there is fabric towards the end of the bed to protect the bedding when someone lays on the bed with their shoes on or places their luggage on the bed.
The bed scarf is also decorative and adds another layer of elegance to a bed.
You can use a small piece of fabric or a folded blanket as your bed scarf.
Save