Since the majority of my clients live in the suburbs in a sea of builder grade homes, I have seen the exact same bathroom over and over again.
White cabinets, white cultured marble countertops, a huge mirror that covers the entire wall, and the most basic light fixture over each sink.
If everything in your bathroom functions properly and is in good repair, then you do not have to do a full remodel in order to get an upgraded look.
Here are a few tips to spruce up your bathroom without breaking the bank.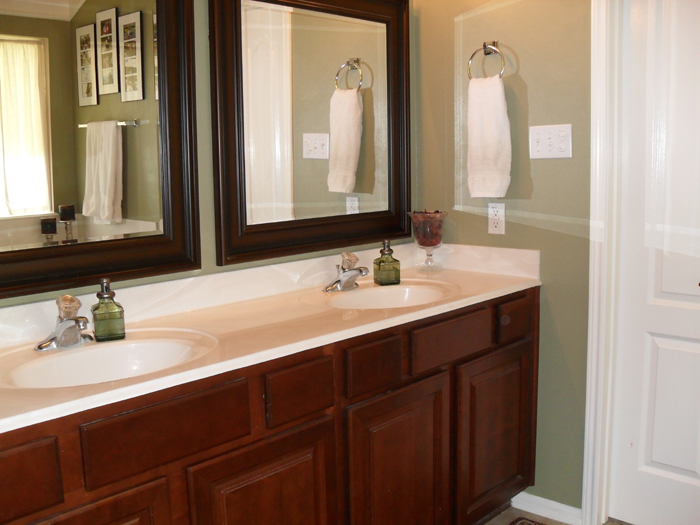 Interior design by Fletcher Design Consultants
(Disclaimer - This website contains affiliate links, meaning I get a small commission for purchases made through the links that offsets the fees associated with publishing this blog, however you will not pay any additional cost)
Paint the Walls
The easiest and least expensive way to transform any room is by painting the walls.
Get rid of all of the builder beige and select a real color.
If the thought of color scares you, paint your walls the same color but 2 shades darker.
Use an eggshell or semi gloss paint in bathrooms instead of flat paint since glossier paint is more durable.
Cabinets
Most builder grade cabinets are painted white.
In order to upgrade your cabinets, paint them a color other than white.
Popular cabinet colors include black, chocolate brown, and gray.
Also consider painting your bathroom cabinets a bold color such as navy or red.
Cabinet Hardware
Most generic bathrooms do not have cabinet hardware.
Cabinet hardware not only looks good, but it also protects your cabinets from everyday wear and tear.
Consider adding some fun or unusual hardware to your bathroom cabinets.
You can shop for hardware at home improvement stores, home accessory stores, and online.
Avoid the basic cabinet hardware that is sold in multipacks because those tend to be over used and not special.
Mirror
A huge sheet mirror looks very generic, so remove it (very carefully) and replace it with a large framed beveled mirror centered over each sink.
Try to get the largest framed mirror that you can find that will fit between your countertop backsplash and overhead light fixture while being centered over the faucet.
If you don't want to remove your mirror, consider framing it in wood, but make to finish the back side since you can often see the back side of your frame reflecting in your mirror.
You can also frame it in beleveled mirrored tiles.
Lighting
The cheap builder grade light fixture over your sink has to go.
Find a vanity light fixture that is interesting yet still provides enough light for the room.
Be aware that light fixtures with shades or one where the light is pointed upward toward the ceiling will not give off as much light as one with exposed light bulbs.
If you also have a light fixture in the middle of your room, consider upgrading it to a more decorative one.
Accessories
Wall mounted bathroom accessories, such as your towel bar and toilet paper holder, can be upgraded for relatively low cost.
Also consider decorative soap dispensers and apothecary jars filled with everyday necessities to decorate your countertop.
Don't forget about artwork, curtains, and a decorative rug to bring the room to life.
More Expensive Upgrades
If you have a little extra money to upgrade your bathroom, consider replacing your countertop with granite or another durable surface, getting a frameless shower door, or upgrading your sink, shower, and tub faucets.
If you would like to receive for FREE "10 Reasons Why Your Home Looks Generic & Boring - and How to Fix It!", click here to join our mailing list and the article will be emailed to you shortly.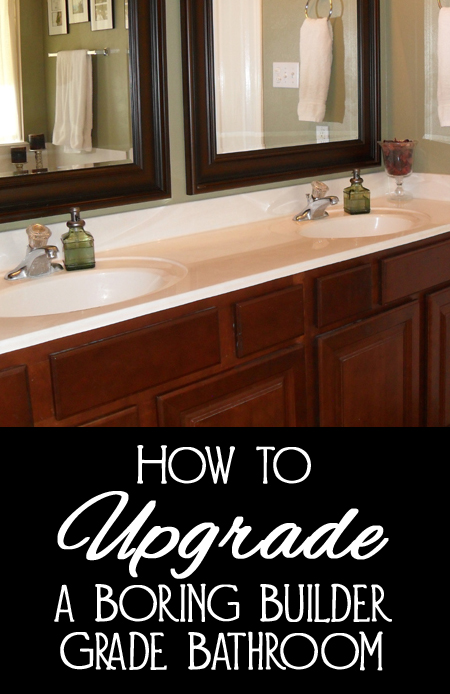 Save
Save
Save