There is a new-ish catch phrase going around - "aging in place".
Aging in place basically means that older adults are taking measures to stay in their homes as long as possible to avoid or delay having to go to a nursing home or assisted care facility.
It allows for a better quality of life and reduced cost, since nursing and assisted care facilities are very pricey.
For someone to be able to age in place, they must consider the structure and function of their home before problems arise.
Try to modify your home at least 5 years before you think modifications might be required.
Today's blog post concerns remodeling a bathroom to accommodate future needs and allow aging in place.
Here are a few things to consider.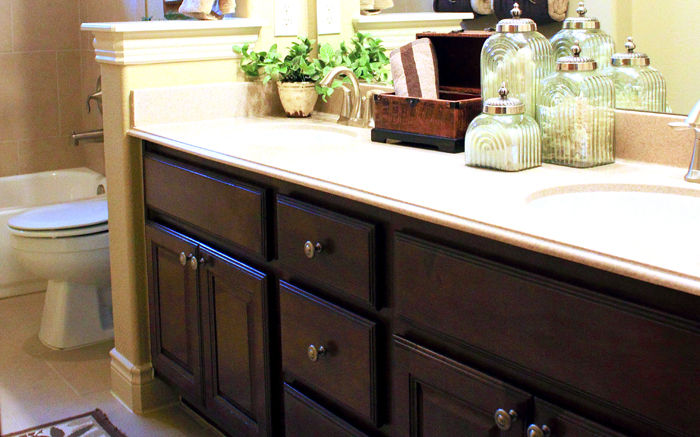 Interior design by Houston area home builder, photo by Fletcher Design Consultants
Steps and Thresholds
Consider any tripping hazards in your home and how you access your bathroom.
If your master bathroom is upstairs, consider remodeling your home to have a full bathroom downstairs.
The cute 2 steps up and 2 steps down throughout your home are tripping hazards as you get older.
Consider the path you take to access your bathroom and remove any barriers.
Door thresholds should be a maximum of 1/2" tall.
Doorways
Anyone at any age can break a leg and have to use a wheelchair.
Wheelchairs need a 36" wide door or 32" wide doorway (or wider) to be able to easily pass through.
Consider the doors leading to your bathroom and the doors within your bathroom (door to toilet or shower) when remodeling your bathroom.
A wider doorway is also easier to go through for someone using a walker or scooter.
Consider removing narrow doors and the door casing to make a wider opening.
Open Floor Space
A person in a wheelchair not only needs to be able to get into a bathroom, but must also be able to get out.
You need enough open floor space for a person to be able to turn around or at least be able to do a 3 point turn and get out.
Door Knobs and Faucet Knobs
Dexterity and strength are diminished as you get older, so knobs that must be grasped should be avoided.
People with arthritis also have difficulty grasping knobs.
Instead of knobs, use door and faucet levers or you can use motion activated faucets.
Countertop Access
Consider making part of your bathroom countertop at a lower level to accommodate a wheelchair.
The wheelchair must also be able to roll underneath, so consider using a bathroom cabinet that has a removable panel underneath (if wheelchair access is needed in the future) and insulated pipes so legs don't get burned.
Also consider the height of the mirror so it can accommodate someone in a wheelchair - a tilting mirror works well.
Flooring
Elderly people often have problems with slipping and falling, so the flooring that you select for a bathroom is very important.
Do not use large glossy tiles.
Use non slip tiles or small 3"x3" or 4"x4" tiles where the grout in between provides slip resistance.
Toilet
One of the easiest bathroom remodels to help older adults is to install a taller toilet.
You could also use a toilet seat extender if a taller toilet is not available.
Grab Bars
Grab bars aren't exactly attractive.
Luckily they can be installed very quickly and easily, if you have the right reinforcements in your walls.
You should reinforce behind your walls when doing a bathroom remodel so you can add grab bars in the future.
Many people add sheets of plywood everywhere in their bathroom so they can be assured that they can put a grab bar anywhere they want at a later date.
Wet Room
A common bathroom remodel style for older adults is to make the entire bathroom into a wet room with a floor drain.
Wet rooms do not have shower doors or thresholds that get in the way and they are very easy to clean.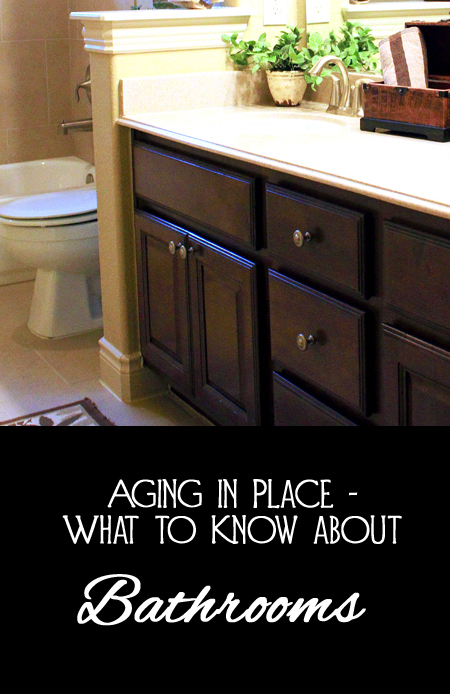 Interior design by Houston area home builder, photo by Fletcher Design Consultants
Save