Staging a home that is for sale is very important if you want to get the most money and sell it quickly.
Most people who have used a professional to stage their homes end up selling their homes for much more money than they spent on home staging.
Home staging should not be used exclusively for homes that are not selling, but it should be used prior to a home being put on the market.
A home that is not staged properly sets a bad first impression and turns off potential buyers that may never give your home a second look.
Your home may sit on the market longer, thus requiring a drop in price and your realtor having to pay insurance for a longer period of time.
You should start by staging your home yourself, then hire a professional to point out the few areas that you may have missed and offer some suggestions on how to make your home stand out from the competition.
There are professional stagers who can offer basic staging services, but interior designers also offer home staging and can offer great design to go along with the staging in order to give your home more pizazz and have it stand out in the crowd.
Here are a few basic ways for you to start staging your home before hiring a professional.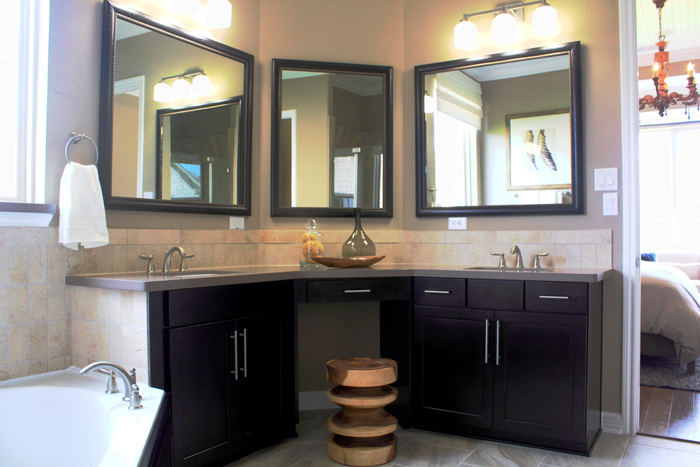 Interior design by Ashton Woods, photo by Fletcher Design Consultants
First Impression
The front of your home needs to look appealing so potential buyers want to come see your home.
It must have good curb appeal else they may not even want to walk inside your home.
Your house numbers should be easily readable so your home can be found without getting lost (and avoid people getting frustrated).
Kids toys and garbage cans should be out of sight, the lawn should be mowed, and the garden beds should be weeded.
Keep in mind that most potential homeowners spend a little time on your front porch while the realtor attempts to unlock the door, so make sure your porch is appealing without any bad odors.
Clean
Above all, a home must be clean.
The windows need to sparkle, the carpet should not have stains, and there should be no dishes in the sink.
You should also clean where you don't expect buyers to look, such as in your fridge and microwave.
Your home should not have any bad odors from pets, the trash, or dirty laundry.
If your home is not clean, potential buyers may turn around and walk out the door before seeing your entire home.
Repair
If anything is broken, it must be fixed before your home is listed for sale.
This includes repairing a leaky faucet, removing a dead tree, and replacing burnt out light bulbs.
Your home should feel that it was well loved and cared for so potential buyers will not be worried that there may be problems hidden somewhere.
Clutter Free
Clutter makes a home feel smaller, makes a home appear to be lacking closet space, and feels stressful.
Remove all clutter from your home.
Put away stacks of mail, piles of shoes, baskets of laundry, smaller pieces of art, your kid's play kitchen, dolls stacked on a bed, laundry baskets, cords & cables, fake plants on top of cabinets, beauty supplies on the bathroom countertop, floor speakers or other oversized electronics, freestanding fans/air purifiers/dehumidifiers, plastic storage bins, and other things that tend to accumulate. Leave as much floor space open as possible to make the rooms feel larger.
Storage
Most everyone needs more storage.
Ensure that all of your closets and cabinets have at least 1/4 of empty space so it seems that your home has more than enough storage space.
Depersonalize
In order to appeal to the most people, you should take away things in your house that may not appeal to everyone to help potential buyers imagine themselves living there.
You should consider removing family photographs, religious items, taxidermy, edgy artwork, and culturally specific items.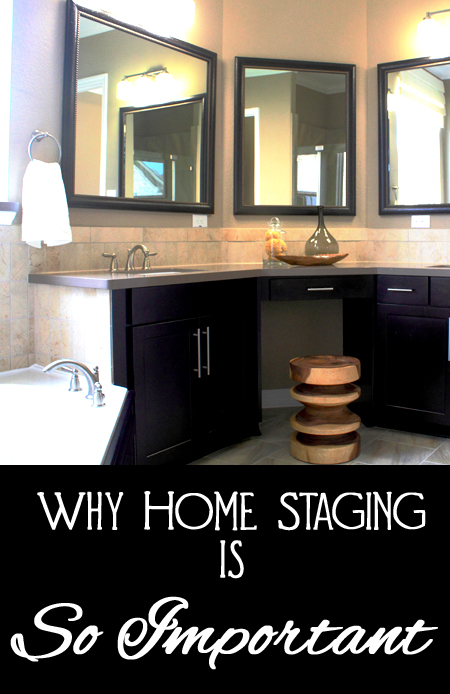 Interior design by Ashton Woods, photo by Fletcher Design Consultants
Save