Adding accessories to your home is the final decorating step - it is the jewelry of your home.
Some people prefer simple and elegant accessories while others prefer the more quirky and playful.
Whatever your decorating style, you can't just throw some things together and hope for the best (trust me, I have tried and failed).
Here are a few professional tips and tricks for decorating your home with accessories.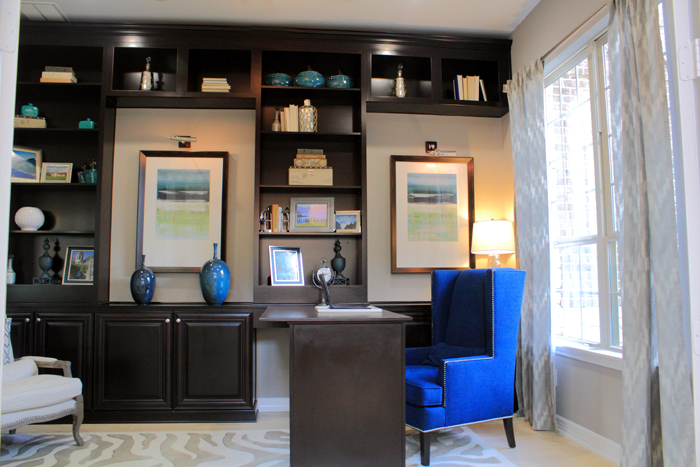 Interior design by Ashton Woods, photo by Fletcher Design Consultants
Bigger is Better
When it comes to home accessories, bigger really is better!
One large item almost always looks better than several smaller items.
A grouping of several items can look cluttered and messy.
When purchasing accessories for your home, look for items that seem a bit too big and they will probably be just right.
Be Patient
Don't be afraid of having an empty shelf or blank wall while you find just the right accessory to fill the space.
It is better to take your time to get the perfect accessory instead of buying some mass produced item that is boring and generic.
Looks for accessories that you love - perhaps something that you pick up while traveling, something that was handed down from your grandmother, or something that is just really pretty.
Keep Collections Together
If you have a collection of figurines, spoons, globes, vintage toys, seashells, snow globes, rocks, marbles, dolls, or anything else, make sure that the collection is grouped together.
Do not have your collection spread around your room and definitely not spread around your home.
Empty Space
Do not fill every square inch of your home with stuff.
You need to have some empty space to allow for your eye to rest as it scans the room.
Swap Them Out
If you have many things that you enjoy having on display, consider swapping them out on occasion.
You do not have to display everything at once.
You can swap items out per different seasons, different holidays, or depending on who is coming to visit your home.
Tall Medium Short
Don't forget to use the tall, medium, short trick when grouping accessories together.
Contrast
If you have a dark colored bookcase, use lighter colored accessories on the bookcase so that the accessories don't blend into the background.
The same goes for a white painted bookcase needing dark colored accessories.
Plants and Flowers
Plants and flowers are great home accessories since they bring life to a room.
You can also use a bowl of fresh fruit.
Hardback Books
When displaying smaller items, consider using hardback books as a pedestal to elevate the item.
Make sure to remove the paper jackets from the books first.
Spray Paint
Spray paint is a magical tool that is often overlooked.
If you have an older accessory that you don't love, consider spray painting it a fun color (or maybe a metallic) to bring it back to life and create a one of a kind decorative item.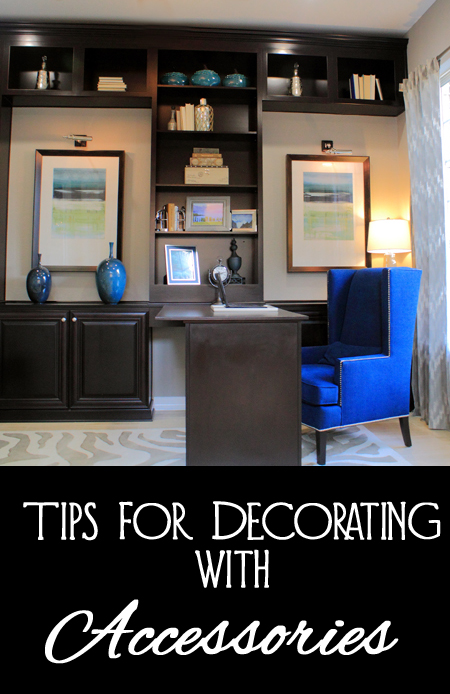 Interior design by Ashton Woods, photo by Fletcher Design Consultants
Save