Tuscan style decorating was extremely popular between the years of 2005 and 2010.
Tuscan decor was dominated by the colors dark red, chocolate brown, and gold, the metal finishes wrought iron and oil rubbed bronze, travertine floor tile, exposed dark colored brick, and ornately carved oversized furniture.
For those who do not know, that ship has sailed.
Most any decorating style that is very popular will become just as unpopular in the near future.
We are now 4+ years past the Tuscan decorating trend, so you should start phasing those elements out of your home, if you haven't already.
Most of us can't afford to get rid of every item in our homes with a Tuscan reference, but we can make little changes to freshen our homes and make them more stylish and up to date.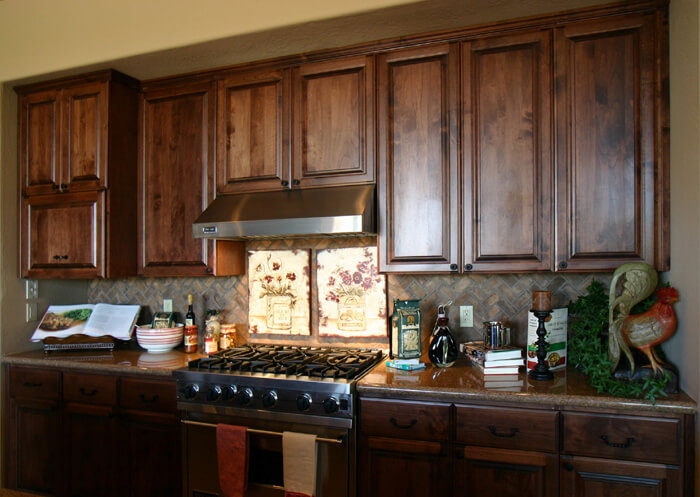 photo courtesy of Arto Brick flickr.com/photos/artobrick/15832697773/
Colors
Try to get rid of every item in your home that has red.
I know that may sound a bit extreme, but you must cleanse your home of Tuscan before you can build it back.
Swap out artwork, pillows, draperies, accessories, and any other lesser expensive home decor item for lighter, brighter, and more colorful items.
Feel free to incorporate the new hot color - navy.
Add lots of white to freshen your home.
If your walls are painted a red, brown, or golden beige, consider repainting them an updated color or even bright white. If you decide to paint your walls white, don't just pick any white - select the same color white as your baseboards, doors, and other painted trim (hopefully they are all the same color of white).
More Minimal
Many people who decorated their homes in the Tuscan style liked having an abundance of accessories.
There were fake plants and flowers everywhere.
No surface was left without an accessory.
To make your home less Tuscan, become more of a minimalist.
Every surface does not need an accessory.
You do not need fake trees in the corners of your rooms.
Celebrate the items you love the most by showing them off, not by surrounding them with lesser quality items that steal some of their attention.
Use items that are both functional and beautiful instead of stuff that is just taking up space.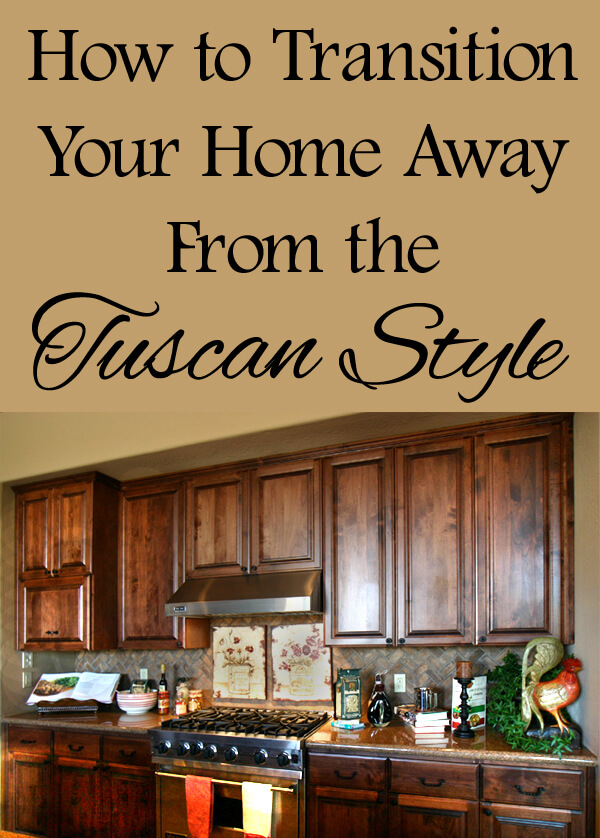 photo courtesy of Arto Brick flickr.com/photos/artobrick/15832697773/
Window Coverings
Lose the heavy drapes and replace them with drapes of a light color.
You can even go without curtains or decorate using sheers.
Light Fixtures
I'm guessing your light fixtures are all wrought iron or oil rubbed bronze.
Get away from the Tuscan look by replacing them with something lighter and more classic.
Consider using the up and coming metal color - antique brass.
If you can't afford to replace them, consider spray painting them a fun color or white.
Accessories and Artwork
As well as getting rid of accessories and artwork that are red, also get rid of any roosters, items in wrought iron or oil rubbed bronze, decorative bottles of oil with layers of colorful herbs, and anything referencing wine or grapes.
While you are at it, get rid of any fake plants (especially ivy over your kitchen cabinets) and cutesy artwork or accessories with a saying, such as family, eat, dream, etc.
Bedding
Get rid of your heavy tapestry bedding or bedding in a burgundy color.
Replace your bedding with new bedding in a solid white or a fresh light color.
Fringe
Ornate fringe was a part of the Tuscan style.
The easiest way to un-Tuscan a home is to simply cut the fringe off your curtains, pillows, and any other item with fringe.
I did this to the curtains in my house and it was rather scary but liberating when I was done.
Faux Painting
If you have any Tuscan murals or faux painted texture on your walls, consider repainting them a solid color.
Luckily, paint is budget friendly if you do it yourself.
Dark Stained Wood
I generally like dark stained wood, but too much of it can make a room feel very heavy.
If you have a lesser expensive piece of furniture, feel free to paint it a lighter color to freshen up your room and make it more contemporary.
If you have dark stained cabinetry, simply changing the cabinet knobs and pulls to a chrome or nickel will make it feel less heavy.
Gray Over Beige
The go-to neutral color used to be beige.
The new decorator standard neutral color is gray.
Not the blue-gray from the 80's, but more of a warm stone/brown gray.
If you have a wall that needs painting or want to purchase new carpet or furniture, select a gray color over a beige color.
If you want to keep your beige travertine floors or other beige items and still incorporate gray, find a large item (such as a rug, set of pillows, or piece of art) that has both beige and gray in it to make the beige and gray color scheme look like it was intentional.
You might enjoy the article How to Decorate with Gray and Beige in the Same Room.
Keep the Tuscan Style, but Update It
If you love the Tuscan style, you can keep it, but you should make it more contemporary so it doesn't look dated.
See the photo above for inspiration.
Notice that there is no red or golden beige, but there is a large amount of gray.
The walls are white to make this Tuscan style kitchen feel more fresh and less dark.
The light fixture is a light color.
Here are a few items to consider for making your Tuscan home a bit more up to date. Click on the photo for more information.
If you would like to receive for FREE "10 Reasons Why Your Home Looks Generic & Boring - and How to Fix It!", click here to join our mailing list and the article will be emailed to you shortly.
Save
Save